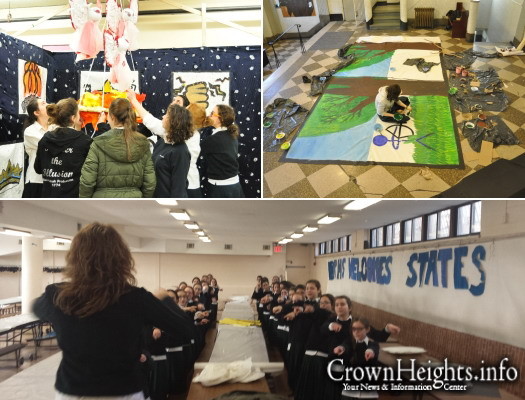 There's a myth about teenagers in the world, that they are unmotivated and self-absorbed. But if you walked into Bais Rivkah High School at any point in the past few days, this would be easily disproved.
In under a week, airplanes have been constructed, plantations have been painted, and enormous towers have been built out of broken spoons. Maamarim, discussions on deepest concepts of chassidus became visual exhibits. Chassidic concepts do not remain abstract but became alive.  You won't be seeing the trademark green uniform skirt for a while, because many girls' uniforms are splattered with a rainbow of paint.
What is all the preparation for? Why are the students of Bais Rivkah digging into their deepest resources of creativity and understanding of Torah and Chassidus to create beautiful decorations for their school?
High School Convention 5775!
In honor of Chof Daled Teves, Bais Rikvah High School is hosting numerous other Lubavitch girls' schools this weekend. Over 800 high school students have joined a global hachana to prepare for a weekend of their life. They will be experiencing hands on activities, hearing and internalizing words of inspirational speakers, seeing a video focusing on our values and beliefs prepared by eleventh grade students. In addition, they will have the zechus of going to the Ohel and the Rebbe's room as well as gain from JLI courses and stunning exhibits that are being prepared right now by the very passionate teens in the Rebbe's school.
For future updates visit hsconvention.com.