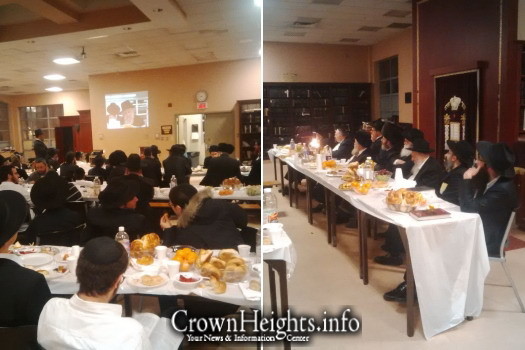 In honor of the 4th Yahrtzeit of Reb Zev Volf Greenglass, OBM, beloved Mashpia for many decades in the Lubavitcher Yeshiva in Montreal, a Melave Malka and Farbrengen was held this past Motzei Shabbos in the Yeshiva's main study hall.
Among those who addressed the gathering was the Rosh Yeshiva, Rabbi Kaplan, who stressed how Rabbi Greenglas would always demand from the students to learn Mamarim by heart as a preparation for the 10th of Shevat.
The Mashpia Rabbi Isaac Gurary stressed the importance of Mivtzoim, especially Mivtza Mezuzah, as a Shmira in our present time. He also launched a Mivtza for the students of learning Maamorim by heart in honor of Yud Shvat, with prizes of Seforim sponsored by the Greenglass family.
Rabbi Alexander Blau, a Rosh yeshiva from Chasidei Square, told over a few stories from the Alter Rebbe, the Kapitshner Rebbe and Reb Volf.
Rabbi Dovid Cohen, son-in-law of Reb Volf, spoke about how a Chasid can be mekushar to the Rebbe and write a Pan (letter) with his machshava (thoughts), as in the famous story of Reb Mendel Futerfas, OBM.
A video of the Rebbe and Reb Volf was shown, followed by an informal Farbrengen which lasted late into the night.