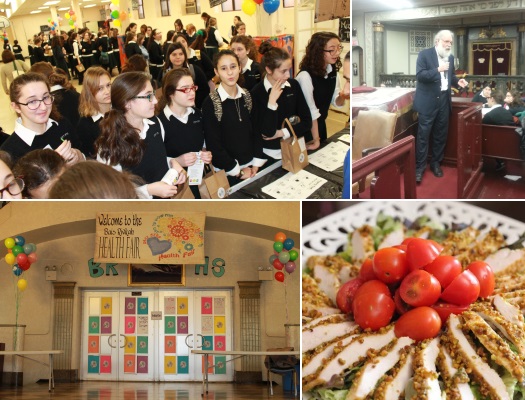 As we approached Rosh Chodesh Kislev celebrating our Rebbe's recovery, Bais Rivkah dedicated a day to focus on Venishmartem Me'od Lenafshosechem. Consequently, last week Thursday the students of Bais Rivkah High School experienced a most meaningful and magnificent event – a Health Fair with learning and hands-on activities about spiritual, physical, and emotional health. Many professionals provided insight and shared their extensive knowledge in areas affecting our health.
The theme of the day was Moach Shalit Al Halev (The mind rules over the heart). The essential ingredient necessary to making proper decisions in life is to have a healthy mind ruling over a healthy heart. Dr. Rosen provided Bais Rivkah girls the privilege of hearing him speak about the benefits of spiritual, physical, and emotional health. He also provided answers to applicable and most commonly asked questions. Ms. Chaya Faigie Jundef, a noted Mechaneches and principal of a girls high school, shared the heart wrenching and heroic account of her challenge and eventual recovery from an eating disorder. She evoked encouragement and inspiration with her journey of recovery from the most dire situation.
As the girls left the shul, they were each handed customized schedules for the day and lip balms. They then concentrated on learning their Limudei Kodesh sessions.
Following a healthy mega salad bar lunch, there was a whir of constant activity, exhibits, and educational workshops. Many professionals displayed their areas of expertise and provided hands-on activities at the Health Fair.
The workshops covered various areas of health. Gitty Chein began the afternoon by explaining how our bodies are the Bais Hamikdash for our neshamos, and eating whole foods make us more wholesome people. Mrs. Sarah Chana Silberstien presented a workshop on herbs and homeopathy, which was followed by a zumba workshop led by Sarah Gold. Shainy Edelman taught the girls about healthy and nutritious alternatives to commonly eaten unhealthy foods. Additionally, the students attended a pertinent and practical workshop about the ways to respond to stress in our daily lives.
Excitement pulsed through the walls of the small lunchroom, which was transformed into an organized arena of booths. The exhibits included stations such as reflexology, aromatherapy, life guarding, emotional coding, first aid, juicing, skincare, imagine better by the JBFCS, and crime prevention by an NYPD officer.
The girls were greatly impressed by the precision with which every detail of the entire day was thought about, cared for, and carried out. The Health Fair helped them discover and dissect every dimension of health: physical, spiritual, mental, and emotional, and the components of each.
A special thank you goes to the Bais Rivkah administration and the twelfth grade G.O. organizers for granting the students this wonderful opportunity.