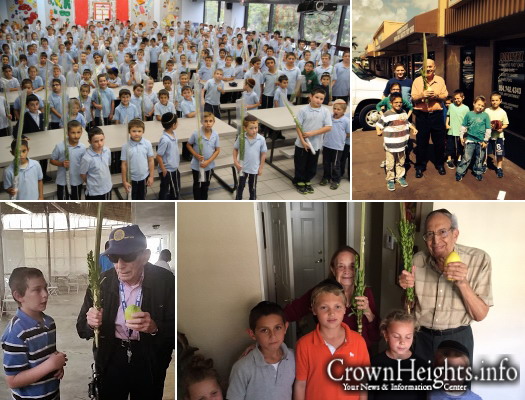 The Elementary School boys of the Lubavitch Educational Center in Miami have made history, and for a very good cause.
In what appears to be the only school worldwide to offer this type of opportunity and contest, it seems that after this year's success—it could possibly become contagious!
In preparation for the Yom Tov of Sukkos, students learned extensively about the holiday, its mitzvos, customs, and, most importantly, how they can help others fulfill the holiday commandments.
"As chassidim, it is not enough that we perform the mitzvos, but we must ensure that our fellow Jews do so as well," said Rabbi Yakov Garfinkel, program director.
For a small fee, each child was able to purchase a completely kosher lulav and esrog set.  In class, students learned about the laws of the arba minim and how to properly assemble them.  The project culminated in a grand assembly, with the singing of the inspiring niggun of the Rebbe Maharash that calls upon a Jew to go above and beyond his basic responsibilities.  Last year the entire student body of 225 boys in grades 1-6 assisted a total of 4,763 people to do the mitzvah of arba minim.  A significant accomplishment in its own right, and a statistic that would be hard to beat—or so they thought.
Would you believe 10,269?
Yes, you read that correctly—10,000!  Over 10,000 people were helped by the LEC boys to make this Sukkos an unforgettable holiday.  Stories and pictures poured in from parents and students alike and the results were staggering.  One beautiful moment was documented by student Eli Rabin.  He wrote: "After doing the mitzvah with a very old couple, the lady said that where she grew up, doing this mitzvah was forbidden, and she could have been killed for doing it.  Now she is proud to do it and proud of boys like me who walk around helping people."
The sixth grade boys, with the help of Rabbi Menachem Tauber, set up an interface where students could log in their achievements and mitzvos.  It can be viewed at lecfl.com/lulav.  A blog was set up with pictures and and a moderated post forum for students to post experiences.
The Sukkos mivtzoyim program was coordinated and directed by Rabbi Yakov Garfinkel, under Principal Mrs. Shevi Sossonko. It was dedicated in honor of an immediate Refuah Shaleima for Yosef Yiztchok Ben Brocha and Tzvi Hirsch Chaim Ben Gutel.
Lubavitch Elementary School is a part of Lubavitch Educational Center, which also includes Lubavitch Preschool and Beis Chana Middle and High School for Girls. The campus, which includes a seven-story facility, three-acre sports field and preschool playground and water park, is located at 17330 Northwest 7th. Under the directorship of Rabbi Benzion Korf, the school serves children from pre-nursery through 12th. For further information, please call (305) 653-8770.