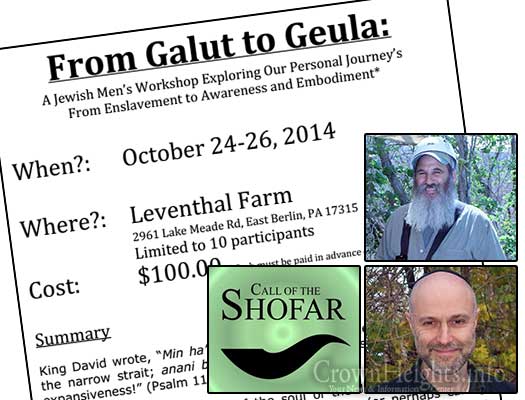 Banned Cult Returns Under New Name
After it was banned by leading Rabbonim last year amid a community uproar, the 'Call of the Shofar' – labeled a cult by experts in the field – seems to be attempting a comeback in the Chabad community under a new name: From Galut to Geula.
Purporting to be "a Jewish men's workshop exploring our personal journeys from enslavement to awareness and embodiment," the seminar's promotional material admits that it is "based, but not limited to, our experiences with Call of the Shofar."
The "workshop" is being led by father and son duo Aaron and Bentzion Shamberg of Baltimore, and will take place over this Shabbos at the Leventhal Farm in East Berlin, Pennsylvania.
All attendees will be required to sign a "supplemental covenant and promise" that "I am attending this training solely for my own benefit and not as an observer, researcher, journalist, investigator, or in any other capacity than as a participant."
An informed consent form must be signed as well, absolving the directors of any liability. "I… hereby release Aaron Shamberg and Benzion Shamberg and Edward and Mesa Leventhal (Property owners) all they're [sic] agents from liability therefrom," says the legally-binding contract attendees must sign.
A flyer for the event says that participation will be limited to 10 people, though an e-mail from the Shambergs says the maximum will be 15.
Responding to an e-mail requesting comment, Call of the Shofar Director Simcha Frischling denied that the new workshop had any affiliation with Call of the Shofar, but gave it his enthusiastic endorsement, saying "I know both Aaron and Benzion for many years. They are both wonderful men and I expect this workshop to be a very good experience for those who attend. Benzion has run several Shofar workshops which were under my auspices."
Last winter, leading Chabad Rabbonim banned Call of the Shofar, saying that its leader promoted heresy by declaring that the Torah's commandments only had to be fulfilled if one wanted to, and was labeled a cult by veteran cult-buster Rabbi Shea Hecht and cult expert Rabbi Raphael Aron.