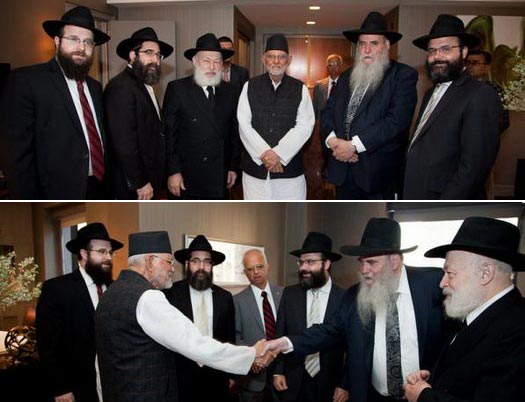 Chabad-Lubavitch leadership met early Sunday morning with Nepal Prime Minister Sushil Koirala in New York, where he is participating at the 69th session of the UN General Assembly.
In his meeting with Rabbi Yehuda Krinsky, Chairman of the educational and social services division of Chabad-Lubavitch, and Rabbi Moshe Kotlarsky, Vice Chairman of the educational division, Mr. Koirala had warm words for Chabad's activities in Nepal and its contribution to his country's tourism and growing democracy. The PM pledged to strengthen his government's relationship with Chabad in Nepal.
The meeting followed the release on Rosh Hashana of Rabbi Chezki Lifshitz, Chabad's representative to Nepal, from custody by Nepalese authorities. Lifshitz had returned from Israel to Nepal in time to lead High Holiday services for his community of hundreds, but was detained by authorities because of a missing visa document.
The rabbi and his wife Chani are renowned for their activities in Nepal serving the country's sizable, transient Jewish community. Their Passover Seder—the largest in the world numbering some 1500 guests, has become world famous. The couple was the subject of Kathmandu, a popular Israeli TV series, and their Chabad center is a destination for Jewish travelers, businesspeople and Israeli backpackers.
The Prime Minister, who took office last February and enjoys wide support among his country's 27 million people, offered his commitment to ensure Chabad's continued growth and "the safety and security of its facilities and Jewish travelers to Nepal." He was presented with a recently published book about the Lubavitcher Rebbe to help him learn more about the history of Chabad and the Rebbe's leadership.
The Prime Minister used the opportunity to affirm Nepal's consistent and long-standing support for Israel, reminding the rabbis that Nepal maintains an embassy in Israel, and has been a loyal friend of the Jewish state for many decades.