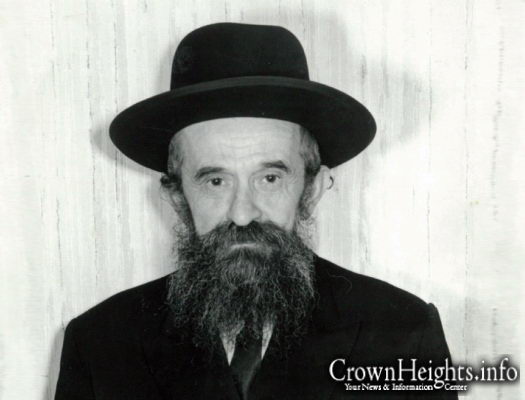 Monday, 5 Tammuz, is the 37th yahrzeit of Rabbi Benzion Shemtov, OBM. The Jewish Tribune, based in Stamford Hill, London, featured vintage photographs and a short biography of Rabbi Shemtov's life in a full page spread in its 'faces from the past' section.

Born in 1902, Rabbi Benzion "Reb Bentche" Shemtov learned in his youth in the Tomchei Temimim yeshivah in the town of Lubavitch. When the Russian Revolution brought the anti-religious Communists to power, Rabbi Shemtov was one of the minyan of young Chasidim chosen by the Lubavitcher Rebbe to "make a covenant…not to be deterred in the establishing and maintenance of yeshivos and Talmud Torahs".
For his efforts for Yiddishkeit the authorities imprisoned him in Siberia, where his feet became permanently injured. He became engaged shortly before his imprisonment, but his marriage could not take place for another four years. After his release from prison he continued to work for Yiddishkeit with great mesiras nefesh and in 1947 he left Russia, arriving finally in London. Here he established Talmud Torahs in the East End and in Hackney, and he was instrumental in the development of the Lubavitch educational institutions in England.
He traveled extensively on behalf of the Lubavitcher Rebbe, to spread and support Torah in North and South America and in Eretz Yisroel. In 1975 he went to Kfar Chabad to set up a printing and book-binding cooperative for Russian immigrants. While he was there his life was brought tragically to an end when he was run over by a car.
One of Rabbi Shemtov's sons-in-law, Rav Nachman Sudak, is the principal of the Lubavitch Foundation of Great Britain.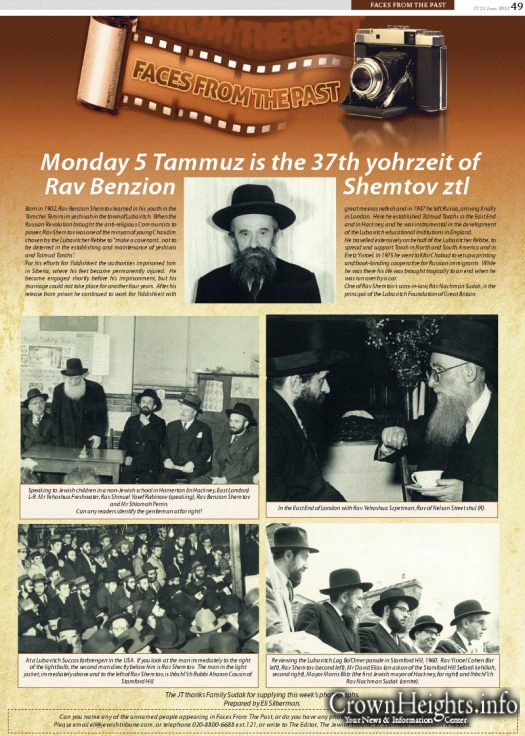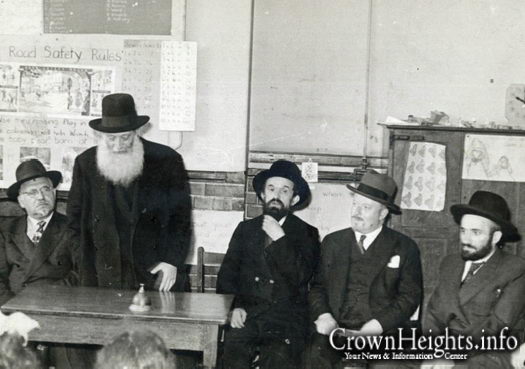 Speaking to Jewish children in a non-Jewish school in Homerton (in Hackney, East London). L-R: Mr Yehoshua Freshwater, Rav Shmuel Yosef Rabinow (speaking), Rav Benzion Shemtov and Mr Shlomoh Perrin. Can any readers identify the gentleman at far right?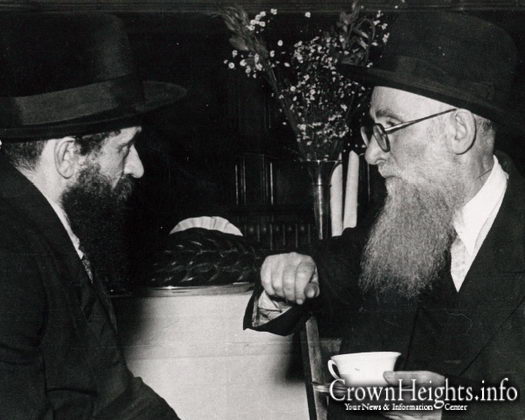 In the East End of London with Rav Yehoshua Szpetman, Rov of Nelson Street shul (R).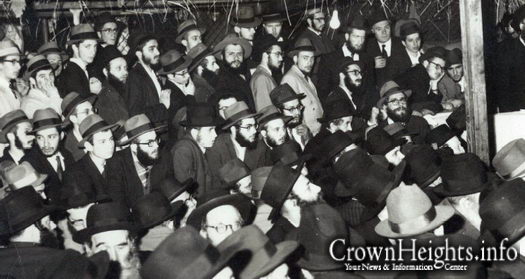 At a Lubavitch Succos farbrengen in the USA. If you look at the man immediately to the right of the light bulb, the second man directly below him is Rav Shemtov. The man in the light jacket, immediately above and to the left of Rav Shemtov, is lhbchl"ch Rabbi Aharon Cousin of Stamford Hill.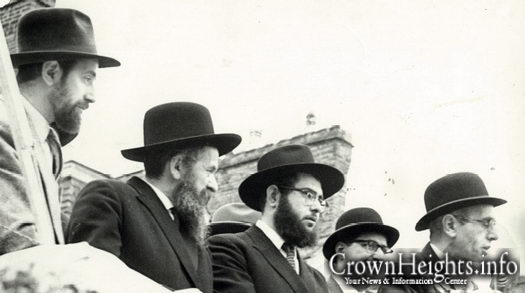 Reviewing the Lubavitch Lag Bo'Omer parade in Stamford Hill, 1960. Rav Yisroel Cohen (far left), Rav Shemtov (second left), Mr David Elias (an askon of the Stamford Hill Sefardi kehillah, second right), Mayor Morris Blitz (the first Jewish mayor of Hackney, far right) and lhbchl"ch Rav Nachman Sudak (centre).