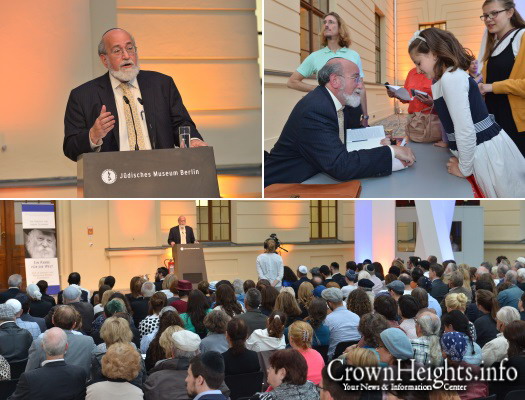 'Rebbe' Author Speaks at Berlin Jewish Museum
In commemoration of Rebbe's 20th Yahrtzeit, the Jewish Museum of Berlin, in cooperation with the city's Chabad Jewish Educational Center, hosted an evening of inspiration with Rabbi Joseph Telushkin, author of a biography on the Rebbe that has joined the New York Times Bestsellers list.
Rabbi Telushkin, who was in Germany for the first time, spoke about the transformation of modern Jewish Life by the Rebbe.
More than 300 people showed up to listen to him speak about Rebbe's vision, character and attributes.
Rabbi Telushkin explained why he spent 5 years of his life to study life of someone else – "to learn from him! The Rebbe showed us what is the true meaning of love between people, how positive thought and speech affect us every day, and how important it is never to put off until tomorrow what you can do now; right now," he said.
After sharing some personal stories related to Rebbe, Rabbi Telushkin took some time to speak to those present, many of whom approached him to sign his new biography on the Rebbe. Although the book was only published recently and has not yet been translated to German, the entire stock was sold out.