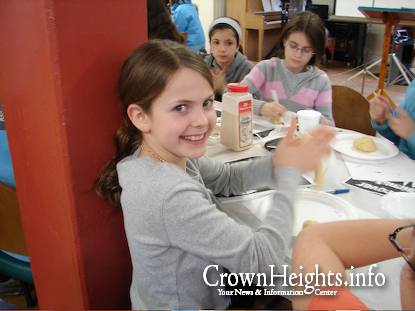 Jewish Girls Unite At Winter Retreat
For five days this Chanukah, over fifty Jewish girls ages 9-15 from all walks of life gathered together for a "Jewish Girls Winter Weekend Retreat". The retreat took place at the 700-acre Silver Bay Retreat Center on Lake George. Participants traveled from Brooklyn, Albany, Syracuse, Massachusetts, Connecticut, Pennsylvania, Chicago, Toronto and Virginia. The Retreat was a joint project of YALDAH magazine and Bat Mitzvah Camp & Club of the Capital District, two dynamic organizations serving the needs of pre-teen and teenage Jewish girls.
More pictures in the Extended Article!

When YALDAH magazine editor, 15-year-old Leah Larson of Sharon, MA attended Bat Mitzvah Overnight Camp this summer, she realized that YALDAH and "BMC" share many common goals. Founded in 2003, YALDAH magazine is a quarterly magazine "for Jewish girls, by Jewish girls". In addition to providing fun reading material and a creative outlet for girls, YALDAH aims to connect Jewish girls and inspire them to embrace their Judaism with pride and become Jewish leaders of the future. YALDAH shows girls that using their talents and determination, they can make their dreams come true.
Bat Mitzvah Camp & Club of the Capital District, founded in 1998 by Rabbi Avraham and Nechama Laber, runs many programs throughout the year including a Bat Mitzvah Club, Bat Mitzvah Teen Club, and Bat Mitzvah overnight and day camps. Like YALDAH, BMC realizes that todays Jewish girls are tomorrow's Jewish women, and helps girls discover what being a Jewish woman is really about. BMC also encourages girls to explore Judaism through their talents, so BMC activities include multi-faceted lessons through art, music, dance, sports, and drama.
Everyone was welcomed to the retreat Thursday night, December 21st, with a menorah lighting and delicious dinner. Friday included drama, dance, writing, choir, and art workshops, donut making, sports, and jewelry making. The girls welcomed shabbos together with the last night of Chanukah. Friday night was highlighted by singing, games, stories, and an inspiring shabbat meal. The girls experienced an uplifting and fun Shabbos of discovery and friendship. After the havdallah service, Rabbi Benny Rappaport, shliach in Clarks Summit, PA showed the girls how to make a braided havdallah candle before the Israeli style 'melave malka'. While enjoying felafel, they played the game-show "Who Wants to be a Mitzvahnaire?" and then enjoyed a delicious chocolate fountain before the concert by talented singer, Rochie Rubin, shlucha in Saratoga Springs, NY. The energy in the room was amazing as girls clapped and danced along, arms around each other. On the schedule Sunday was rock wall climbing, dance, pizza making, a letter-boxing treasure hunt, cake decorating contest, talent show, and roasting marshmallows by the fireplace. Everyone was sad to leave and promised to keep in touch with their new friends when they departed on Monday.
"The energy was unbelievable!" said Chavie Resnick. "I went to the retreat and it was really, really amazing!!! The activities were fun, the booklets and stories inspiring." Probably the thing I liked best were the girls and the counselors. I really felt that they were sincere in their friendliness- and they were lots of fun! I think that this brought many Jewish girls closer together," said thirteen year old Esther Sokolinski. Chana Tzukernik, age 12, summed it up by saying "It was the most amaizing program I've ever been to!"
"The theme of the retreat was "Be a Star! Brighten the Night!" meaning that the Jewish people need to stand out with goodness, even when surrounded by darkness," explained fifteen year old Adah Hetko. From the theme song about stars, to the star confetti, star shaped omelets, or talent show of 'our stars', everything revolved around the theme of how every Jewish girl can sparkle and shine, bringing light and goodness to her surroundings.