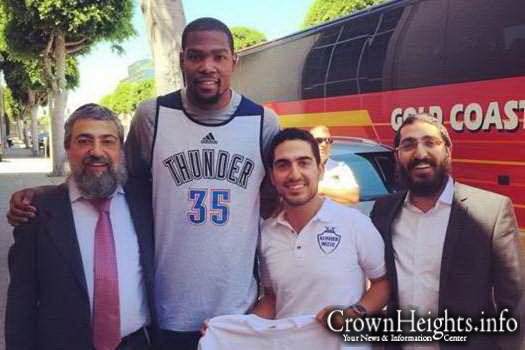 Basketball Player Blessed Before NBA Finals Game
Basketball player for the Oklahoma City Thunder Kevin Durant received a 'triple blessing' from three Los Angeles Chabad Rabbis yesterday, hours before game 6 against the L.A. Clippers in the NBA playoffs. The blessings must have worked, because the Thunder won that game 104 to 98.
From TMZ:
Durant and the Oklahoma City Thunder were training at the JEM (Jewish Education Movement) Community Center in L.A. before tonight's game … and clearly rubbed some of the rabbis the right way, because they decided to give him a pre-game blessing.
MVP Kevin Durant and his team received a triple rabbi blessing from the founder of JEM, Rabbi Hertzel Illulian, Rabbi Yossi and Rabbi Benjamin Illulian.
See, Donald Sterling couldn't drive a wedge between black people and Jewish people after all.