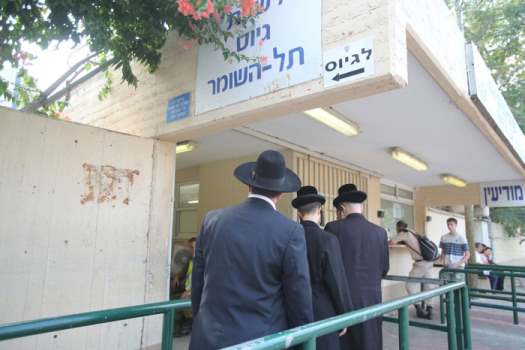 Illustration: IDF draft office.
Lubavitcher Chosson Arrested After Enlisting in IDF
A young Lubavitcher, who had just recently celebrated his engagement, showed up at the IDF offices in Israel expecting to submit himself to the army draft. Instead of being signed up, he was arrested for being AWOL.
The fellow had received a deferment from army service for learning in yeshiva. Eventually he finished his learning and traveled abroad in the capacity of being a Chabad shliach. But as soon as he stepped out of the country, unbeknownst to him, he was registered as being officially AWOL.
He returned to Israel in October and appeared at some point before the army draft board to be enlisted. He was immediately arrested for being AWOL. His excuse that he did not know he was AWOL fell on deaf ears, and he was served with an indictment.
Due to the involvement of the IDF Defense Attorney, he was moved to an "open arrest," which allowed him to begin his actual service and training. His commanders have reported that he is serving well, with high motivation.
Despite officially being under arrest, he was able to get married and he has even been allowed out to go home for short periods of time.
His trial is coming up this week, and the prosecutor wants him in jail.
The defense says that doing so would harm the army's ability to attract other Haredim to the service, and they shouldn't go hard on someone whose community they are trying to attract.