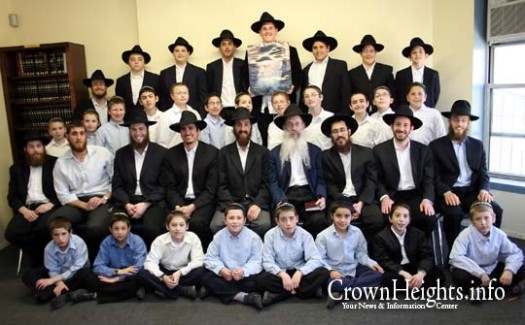 Rabbi Shlomo Lakein, OBM, with his students at Darchei Menachem, whose Chanukah pamphlet enabled the identification and Jewish burial of a Mais Mitzvah in Connecticut.
Rabbi Yosef Wolvovsky traveled an hour each way on Jan. 10 to perform a graveside funeral for a man he had never met. Eight of the other nine men present that Friday morning were in a similar position.
But duty called, and the group rose to the occasion.
"It all began earlier in the week," explains Wolvovsky, who co-directs the Chabad Jewish Center of Glastonbury, Conn., with his wife, Yehudis. "I was in the office of Dr. Steven Rafalowsky, a friend with whom I study Torah and put on tefillin. All of a sudden, I start getting calls and urgent text messages from my colleague, Rabbi Levi Schectman, who serves as Chabad on Campus rabbi at Wesleyan University, about 15 miles away from Glastonbury. Someone had passed away, and it seemed urgent."
After excusing himself and calling Schectman, Wolvovsky learned that a man named Jeffrey Gollinger, 72, had passed away in a nearby hospital. A long-term resident at the Twin Maples Health Care Facility—a nursing home in Durham, Conn.—Gollinger suffered from physical and mental handicaps, and had no known relatives.
The staff knew that he was Jewish and that a rabbi visited occasionally, but had no instructions for burial and didn't know the rabbi's name or whereabouts. Left with no recourse, they were in the process of turning his body over to the state.
While looking through his meager possessions, they discovered a Chanukah guide published by Rabbi Shlomo Lakein of the Crown-Heights, N.Y., based Outreach Publishing Corp. and distributed by the Chabad yeshivah in New Haven, Conn. Hoping to find the rabbi, they called the number on the pamphlet. They reached Rabbi Yosef Lustig, principal of the high school division. Since the school distributes hundreds of such publications tucked into menorah kits every year, he had no idea who brought Gollinger that particular flier.
Using Chabad.org's Chabad center locator, Lustig determined that the closest Chabad center was Schectman's and gave him a call. Since Schectman's primary work is with university students, he quickly contacted Wolvovsky, hoping that perhaps he was the rabbi in question or would otherwise know how to care for Gollinger's remains.
A Sacred Obligation
In Judaism, caring for the dead is known as chesed shel emet, or "true kindness," since it's done with no possible hope for reward. When the deceased leaves no relatives or friends, he or she is known as a met mitzvah, and it is a sacred obligation to help bring him or her to proper Jewish burial.
Right then and there, Wolvovsky and Rafalowsky started working the phones and searching the Internet, looking for possible relatives with no success. At the same time, Wolvovsky contacted other Chabad rabbis in the area, hoping to discover the unidentified rabbi.
At last, he struck gold. Upon the advice of Rabbi Yosef Hodakov of Chabad of Westville, Conn., he called Rabbi Berel Levitin, a Chabad rabbi whose main work involves Torah classes and other services for seniors in New Haven.
It turned out that Levitin had been visiting the man for 20 years. Gollinger's father had left when he was a small child; his mother had passed away in 1966. Ever since, he had been alone in the world. Levitin first met him when Gollinger was living in a group home in New Haven. Gollinger would often walk near the yeshivah and enjoyed interacting with the students.
"He was always really happy when I would visit," says Levitin. "We would put on tefillin and celebrate Jewish holidays together. He was just so thrilled to be able to say the blessings with me and ask how his old friends at the yeshivah were doing.
They may not have been aware of it, but he felt very close to them."
With time, Gollinger was transferred to a succession of facilities, ultimately ending up in Durham, a half-hour drive away. Levitin continued to visit, bringing holiday goodies, prayers, news from the yeshivah—and most importantly, his companionship.
Upon learning of the death of his friend, Levitin began making arrangements for the funeral. He called the Robert E. Shure Funeral Home, with which he had a relationship, and was surprised to learn that Gollinger had put down some money toward his funeral many decades ago.
Upon further investigation, Levitin learned that he had left instructions that he be buried near his mother. However, due to a breakdown in communication, the facility where he had last been living was unaware of the arrangements, and the funeral home had no way of knowing that he had died.
"Thank G‑d, we were able to give him a proper Jewish burial right next to his mother," says Levitin. "Rabbi Wolvovsky and I were joined by eight students from the yeshivah, and the kaddish prayer was recited for his soul."
"You never know the power of a mitzvah," Wolvovsky concludes. "Someone gave a Chanukah pamphlet to a lonely man in a nursing home, and that one isolated act of kindness was the key to ensuring that he was accorded a dignified and spiritually significant burial with the people who meant the most to him."