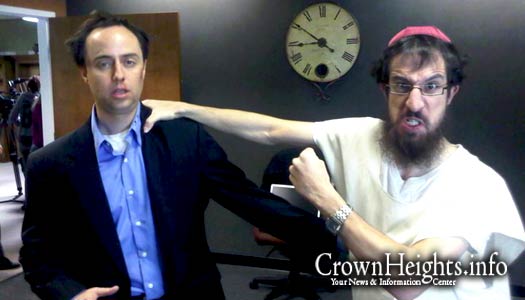 CrownHeights.info has learned that Chabad comedian, Mendy Pellin is playing the lead role in an independent film, "A Modest Suggestion."

Filming for "A Modest Suggestion," a hard-hitting feature-length dark comedy about anti-Semitism and Jewish identity, started today, Sunday morning in Baltimore, MD.
In a conversation Mendy Pellin had with CrownHeights.info he said, "I'm in Baltimore for a few weeks on the set of a film called, A Modest Suggestion. I have a lead role playing a Chassidic Jew that was kidnapped." He was unable to divulge any more details.
Screenplay By:
Ken Kaissar, Arnon Shorr
Directed By:
Arnon Shorr
Produced By:
Mark Jaffee, Israel Orange, Arnon Shorr
Plot Outline:
"A Modest Suggestion" is a hard-hitting feature-length dark comedy about anti-Semitism and Jewish identity. The film explores the absurdity of anti-Semitism by allowing its characters to pose and ponder its central question.

In a drab, corporate boardroom, four men in suits discuss the next item on their agenda:

"should we or should we not… kill the Jews?"