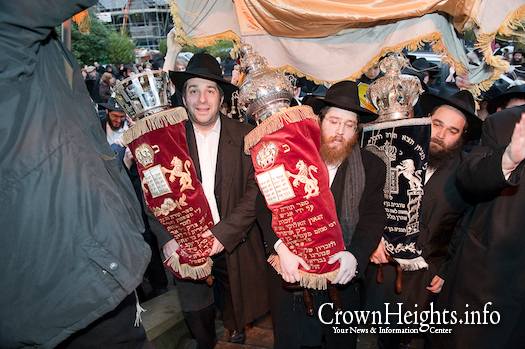 MANCHESTER, England [CHI] — Last week Sunday, the 15th Teves, 11 January, 'The Minyan; in Beis Menachem held a Siyum Sefer Torah. The writing of the Beis Menachem Communal Sefer Torah was started just over twelve months ago by the Sofer, Reb Uziyohu Brown, a local member of Anash. Following the attack on the Chabad House in Mumbai, the Committee decided that the Torah which was being dedicated to the Rebbe, would now also be dedicated in memory of his two Shluchim, Rabbi Gavriel and Rivka Holtzberg HYD and would be held as close to the Shloshim as possible.
More pictures in the Extended Article! (by Menachem Abrams)

The Parshos were purchased by members of Anash and the wider community, with Parshas Acharei Mos dedicated to all the Kedoshim who were murdered in the Mumbai Chabad House.
The Final Letters of the Sefer Torah were completed in the Yeshivas Lubavitch and the procession went from there to The Minyan in Beis Menachem accompanied by much singing and dancing. The Bochrim gave real chayus to the event. Many local Rabbonim came to participate in completing a letter in the Sefer Torah as wekll as the procession and Hakofos.
In the evening, a Seudas Mitzva was held which was professionally catered by three Chefs who are members of The Minyan, Mr Yaakov Bruck, Mr Hershel (Haydn) Rose and Mr Shmuel Shuraki. Following a video of a sicha of the Rebbe on Kesivas Sefer Torah, Rabbi Mendel Cohen and Rabbi Yossi Chazan spoke. The JEM video about the Holtzbergs HYD was also shown.
Throughout the day, there was a wonderfull feeling of Simcha and Achdus.