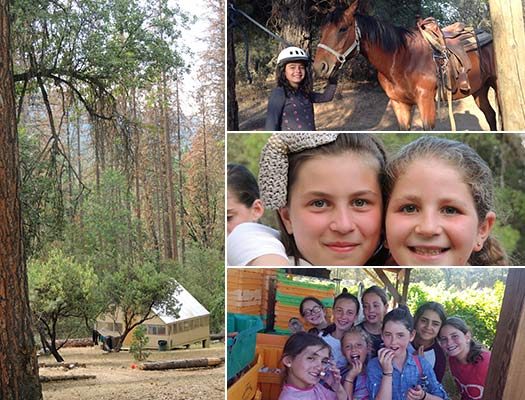 Gan Yisroel West in California is gearing up for another amazing and inspiring summer.
Gan Yisroel West is located on a 92-acre gorgeous campground adjacent to Manzanita Lake in North Fork, California. The camp enjoys proximity to Bass Lake, Yosemite National Park, Mammoth Falls, and the majestic Sierra Nevada which are all destinations of the camp. Manzanita Lake is where the campers go swimming, kayaking and sit under the fresh Pine trees to soak in the views of swans, ducks and Canadian geese.
At Gan Yisroel West campers enjoy kayaking, horseback riding, paintball shooting and even archery, all while staying on campus. The hiking trails include a three mile hike through the camp property. They can participate in arts and crafts, sports, baking and drama. Campers are accommodated in rustic cabins and modern buildings and dine in the dining room and deck that overlooks beautiful forest terrain. They can kick back and relax and enjoy the beautiful star filled nights.
The variety of projects, trips and overnights are just a part of the big fun and the amazing activities. By inspiring the campers with daily shiur, Tzivos Hashem, Rebbe time and many other programs they breathe in a love for Yiddishkeit and Chassidus that lasts a lifetime.
And of course no camp is complete without good food. Meals at Gan Yisroel West are nutritious and delicious making use of the variety of fresh fruits and vegetables that California is famous for.
Children from all over the country and beyond come to Gan Yisroel West to become a part of our vibrant community, which keeps on growing.
The camp is directed by Rabbi Shlomo and Aliza Menkes
The staff includes:
Rosie Benabou – Head Counselor
Chaya Karpilovsky – Head Counselor
Hadara Friedman – Shiur Director
Faigy Blasenstein – Tzivos Hashem Director
Camp Dates June 26- July 24
There are just a few more spots available!
For more information and applications visit: Ganyisroelwest.com or call: 310-910-1770