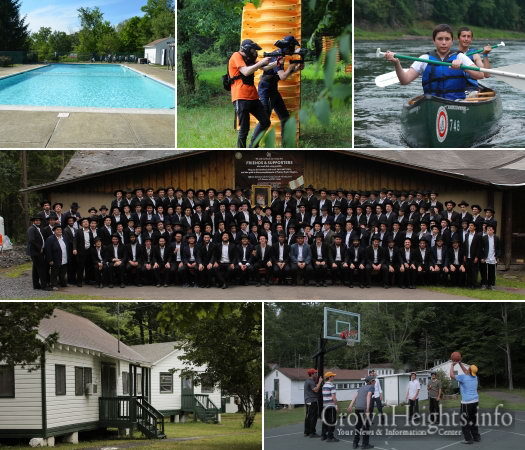 Yeshivas Kayitz Kingston—an exciting summer program for 8th grade and Mesivta age boys—has recently announced its head staff for the upcoming summer.
Yossi Lasker from Brussels, Belgium, and Mendy Marinovsky from Houston, Texas will lead this year's eighth grade program, in the capacity of Head Counselor and Learning Director respectively. Rabbi Moshe Silman, longstanding Mashpia of Oholei Torah Mesivta, will return for his 3rd year to direct the Mesivta program together with a complete team of teaching staff.
Since its founding in 2014, Yeshivas Kayitz Kingston has risen to become a leading summer program in its age group, attracting talmidim from 8th grade and Mesivtas around the country. Their sprawling grounds, on-site amenities and renovated facilities make Yeshivas Kayitz Kingston the number one option for campers looking for a special summer experience.
"Interest in Yeshivas Kayitz Kingston continues to grow each year, and we expect this year to be our biggest program ever," said Rabbi Yisroel Levertov, Yeshivas Kayitz Kingston Director. "To facilitate this growth we're hiring the best and most competent staff, and we're continuously revamping our program to give campers the most memorable experience possible."
Yeshivas Kayitz Kingston's learning program is unique in that the classes are kept small, ensuring each Talmid receives the personal attention they need. Mivtzas are run throughout the summer encouraging Talmidim to use the Mikvah, learn Chitas and Rambam, and are rewarded with specialty breakfasts, activities and trips.
"The combinations of beautiful surrounds, dedicated staff and serious learning make Yeshivas Kayitz Kingston an amazing program," says Rabbi Silman. "The Talmidim have a very special summer. They come back inspired and refreshed for the new year."
Registration is now open for this year's summer program. Limited spaces are available and campers will be accepted on a first-come first-serve basis. Yeshivas Kayitz Kingston will begin on Wednesday, June 28th (4th of Tammuz), and will end on Tuesday, August 15th (23rd of Av).
To register or to find out more, visit www.ykkingston.com or call at 845-393-1701.