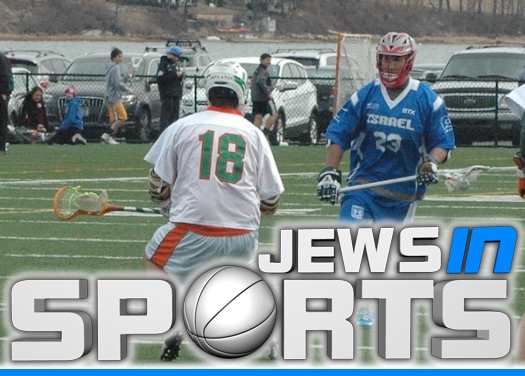 Jews in Sports: Cultural Celebration in Our Backyard
While you were likely busy celebrating the holiday of Purim last week, the Village of Bayville, NY transformed one of its parks into an international celebration center last Sunday afternoon when the Israeli and Irish national lacrosse teams faced one another on Purim Day, this year coinciding with the eve of St. Patrick's Day.
More than 120 fans braved the below-freezing mercury levels and arrived dressed in green apparel or white-and-blue garb to support their respective teams at Centre Island Town Park, overlooking the Long Island Sound.
Ireland edged Israel for an 11-10 victory, and it was a nail-biter all the way to the finish.
Ireland overcame a two-goal deficit in the final quarter to eke out a win by the narrowest of margins after Israel fought its own way back after allowing four quick Irish goals and eventually tying the game at 5-apiece by halftime.
Ireland's Brian Gill had the game winner with 2:41 to go in the fourth quarter, and was named the game's MVP after scoring three goals for the Emerald Isle.
Michael Kennedy, chief executive of Ireland Lacrosse, explained how Sunday's game came together by chance after his team planned its training camp for St. Patrick's Day weekend. Then, talking to Scott Neiss, executive director of the Israel Lacrosse Association, and realizing the holidays were in such proximity, the cross-cultural game day was born.
"There's a large Jewish community in New York and a significant Irish population here too," explained Kennedy. "It's wonderful for both teams to be able to connect to these communities on such special days."
Both squads are preparing for the 2014 World Championship this July in Colorado, which will feature teams from 38 countries.
Ireland is currently ranked No. 9 in the world. Israel is not yet ranked because its team has not participated in world competition.
"We're going out there to win a World Championship and put Israel on the Lacrosse map," explained Israel team alternate Eytan Saperstein. "Hopefully we can inspire people in Israel to pick up the game and develop it into a sport played throughout the country."
The two teams scrimmaged in an exhibition game two years ago before the European championships, but this is the first time the Israeli team is playing on American soil.
Before the game, children took part in a youth lacrosse clinic, where "many people donated equipment for players in Israel and Ireland who cannot afford the expensive sticks and cleats," noted Neiss.
Several family members and friends came to support Daniel Devery, a defender on the Israel team who has now lived in Israel for the past two years and who carried the flag onto the field for the pre-game national anthems.
"It's awesome," said Rebecca Devery. "I'm so proud of my brother and it's wonderful to be here and see him compete."
That wasn't the only reason why many players and fans alike agreed to the Lacrosse match on a frigid afternoon.
"We're here today to celebrate the sport and our unique cultures," said Noach Miller, who had a pair of goals in the loss. "We want to celebrate our similarities, and our passion for the sports of Lacrosse."
Yossi "The Sports Rabbi" Goldstein is a Producer at WBCB-1490AM in Levittown, PA., and hosts "Sports Talk With The Sports Rabbi", a sports-talk show, every Thursday night. It can be heard at www.allnoiseradio.com from 8-9pm.