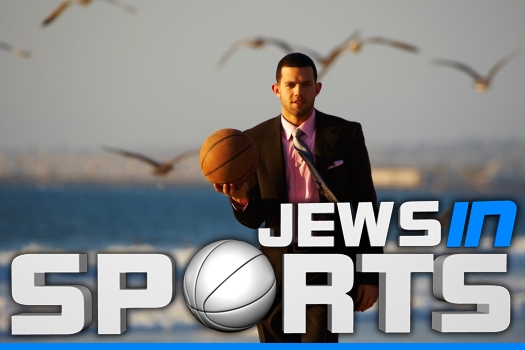 Jews in Sports: Jordan Farmar Returns Home
Many questions surround the Los Angeles Lakers after the team missed out on re-signing center Dwight Howard. No larger question than if the Lakers can reclaim its championship luster.
The team took a step towards its quest for glory by signing free agent guard Jordan Farmar to a one-year, $1 million-dollar deal, which in turn gives Los Angeles the critical bench piece that helped them win back-to-back NBA titles in 2009 and 2010.
"We're pleased to have Jordan back with our organization," explains Lakers g.m. Mitch Kupchak. "We look forward to him once again making a positive impact on our team."
Farmar, a Los Angeles native, played last season in Turkey, where he averaged 13.8 points, 3.6 rebounds and 3.9 assists for Anadolu Efes Istanbul in the Euroleague.
Only after a complicated buyout from his Turkish team could Farmar officially sign with the team that drafted him in the first round out of UCLA in 2006. The buyout won't count against the Lakers' Salary Cap, nor will its luxury tax penalty increase.
Before Farmar's short stint in Israel during the NBA lockout, where he played for Maccabi Electra in 2011, Farmar also played for the then New Jersey Nets, where he had his best NBA seasons with the freedom to pass and shoot the ball, averaging 10.4 points-per-game on a career-best 44 percent shooting from 3-point land.
While the Lakers currently feature one of the best point guards in the game in Steve Nash, the steady belief is that Farmar's athleticism and play-making ability will mesh well in Mike D'Antoni's run-and-gun offense.
A fan favorite during his first stint on the Lakers, Farmar can also be a dependable insurance policy should Nash, 39, goes down with an injury for an extended period of time.
Although Farmar has played the point guard position for most of his career, he may be called upon to play some shooting guard as Kobe Bryant has hinted towards returning from a torn Achilles tendon injury in November or early December.
In college, Farmar led UCLA to the 2006 NCAA championship game as a sophomore, and averaged 13.5 points and 5.2 assists in the 66 games he played with the Bruins.