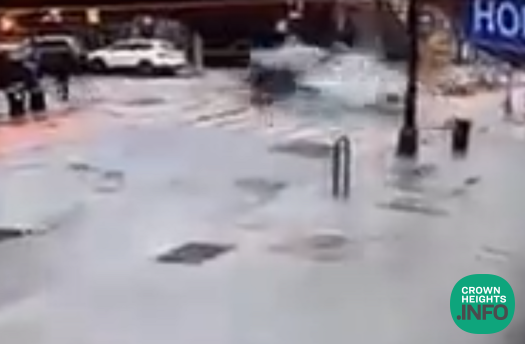 VIDEO: Surveillance Footage Surfaces Showing Monday Crash on Nostrand Ave, Additional Details Released
by CrownHeights.info
Surveillance footage has surfaced showing the moment of impact where a wanted vehicle slammed into an SUV at the intersection of Nostrand Ave and Crown Street Monday, throwing both vehicles into parked cars.
As previously reported on CrownHeights.info, the white sedan vehicle, which was wanted in another precinct for reckless driving, had evaded an NYPD car stop by speeding away. Minutes later, the driver spooked after seeing a police cruiser from the 71st Precinct and again picked up speed, blowing through a red light and T-boned an SUV.
The force of the impact was so strong it lifted the SUV and Sedan into the air before throwing both into parked cars and onto the sidewalk.
The police were on scene in a matter of seconds and the FDNY soon after.
The FDNY extricated two people from the mangled wrecks, one with leg injuries, the other with leg and head injuries.