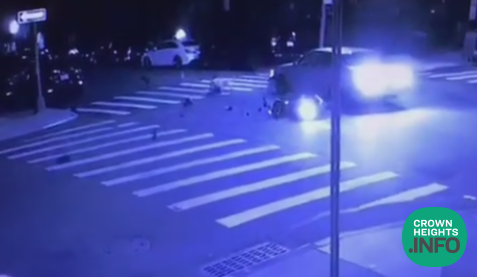 Miraculous Car Crash or Literal Crown Heights Hit and Run?
by CrownHeights.info
A man miraculously walked away from a scooter vs car crash in Crown Heights Wednesday evening, and the video of the incident could be used to teach others what not to do.
Footage from a home surveillance camera caught the crash that brings out both the awe of the miracle and disgust of the complete disregard for the law.
The crash, which took place at the intersection of Montgomery Street and Albany Ave, shows a man driving a motorized scooter the wrong way down Montgomery Street when he T-bones a car driving with the right of way down Albany Ave. The crash sent the helmetless scooter driver flying over the roof of the car and smashing down to the ground.
Miraculously, the driver of the scooter immediately stood up and began running away, only to return moments later to retrieve two items from the ground.
Was it a miracle that this man survived nearly unscathed? Yes. Was he completely at fault for the reckless driving? Also yes.