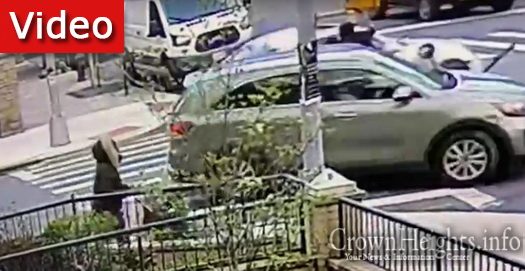 by CrownHeights.info
It should be a warning to all scooter riders.
New video has emerged showing the chain reaction that caused a car to slam into a homes retaining wall on the corner of Albany Ave and President Street Wednesday evening.
The video footage shows how a Jewish boy on an electric scooter riding against traffic suddenly crossed into oncoming traffic, narrowly missing one vehicle and being slammed by the white Infinity, which then careened into the home.
The video shows the boy, obviously shaken but able to stand up after the crash.
According to a previous article posted on CrownHeights.info, the driver of the vehicle was seen in handcuffs. It remains unknown the reason for that, as the direct cause of the crash appears not to be his fault.