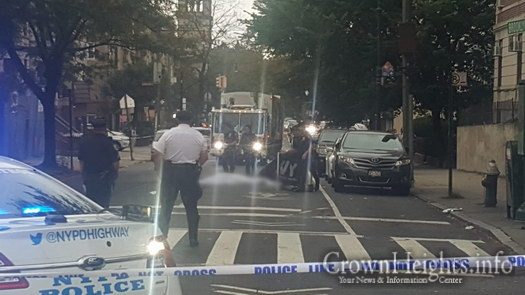 by CrownHeights.info
An early morning crash claimed the life of a 37-year-old Hispanic man as he was crossing the street on Brooklyn Avenue near Eastern Parkway. The entire area is closed off due to a police investigation.
The crash occurred sometime before 7:00am, the victim appeared to have been crossing the street when he was fatally struck by a sanitation garbage collection truck on Brooklyn Avenue between Lincoln Rd. and Eastern Parkway.
Over an hour later the victim's body, draped with a white cloth, was still lying in the street as the investigation is being conducted.
Due to the investigation Oholei Torah bus drivers were not allowed to get their school buses and the school issued a hasty notice to parents to arrange other transportation. Additionally, the parkway service lanes from Kingston Avenue all the way to New York Avenue are closed and parents are instructed to drop students off at the corner of New York and Eastern.
This is a developing story and will be updated when more information becomes available.