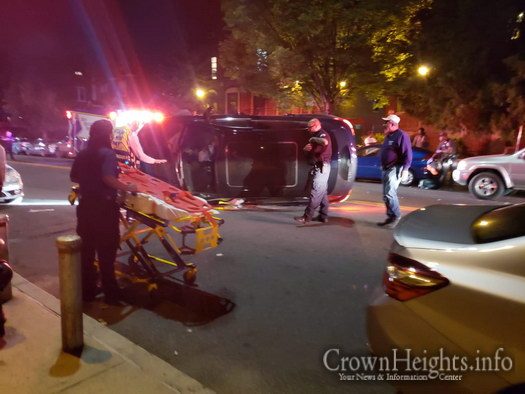 A motorist fled the scene of a crash in which he flipped his own vehicle after colliding with a double parked car at a high rate of speed.
At around 2:30am on Saturday night emergency services received multiple calls for crash involving an overturned vehicle on Lefferts Avenue near Albany Avenue.
The vehicle, a Lincoln SUV, was reportedly travelling at high rate of speed when it collided with a double parked car and flipped over. Witnesses said that when the car came to a stop on its side the driver, who appeared to be Jewish, climbed out of the passenger door and quickly fled the scene.
Many firefighters, Hatzalah, EMS and Shomrim responded to the scene fearing serious injury, only to discover the unoccupied vehicle.
An investigation into the incident is being conducted.