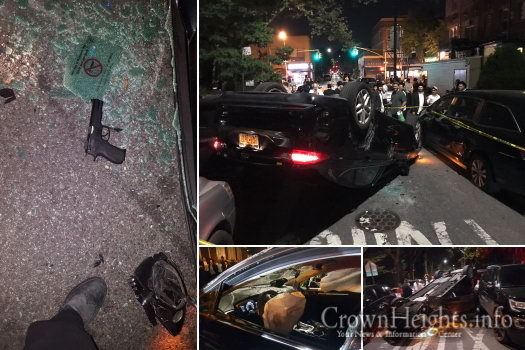 Last night, a rental car reportedly driven by Bochurim crashed into several parked cars and flipped over, after which the vehicle's occupants fled the scene.
The incident occurred at around midnight Wednesday night, on Union Street between Kingston and Brooklyn Aves.
Witnesses called the police, but by the time they arrived at the scene the occupants of the vehicle had fled.
Police cordoned off the scene of the accident and documented the damage. They also found a weapon, later discovered to be a BB gun, near the crashed vehicle.
Witnesses said that the car was rented from a local informal car rental service, as evidenced by a part of the shattered window with a sticker on it in both English and Hebrew informing occupants that smoking in the vehicle is prohibited.
Police sources said that the vehicle was not reported stolen at the time of the crash, and that the incident is being investigated.