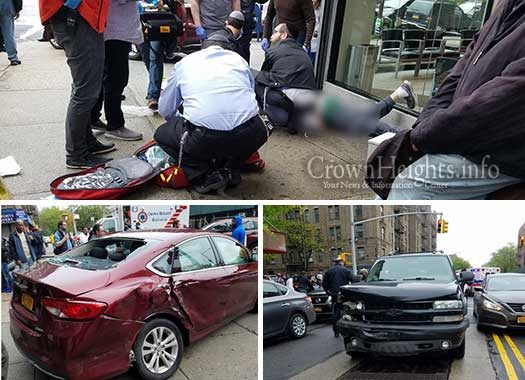 A Jewish man is in critical condition after he was hit by a car and thrown as much as 15 feet. Horrified witnesses recounted seeing a speeding vehicle strike the victim, who was walking on the sidewalk.
The incident occurred on Lefferts Avenue and Kingston Avenue at around 5:00pm on Friday afternoon. According to multiple witnesses the driver of a black Chevrolet Tahoe was speeding down Lefferts Avenue when she struck a red Chrysler 200 that was making a left turn from Lefferts onto Kingston Avenue.
The force of the collision spun the red sedan around, and in the process struck a Jewish man who was walking on the sidewalk. Horrified witnesses said that he was thrown in the air as far as 15 feet.
Hatzalah arrived on scene within minutes and immediately called for backup due to victims' severity of injuries.
Shaken witnesses recounted standing nearby just moments before, "I was right there, [I] was walking my dog and suddenly that car was going so fast and crashed," said one woman. "She was really speeding, I was so afraid."
The victim reportedly sustained injuries to his head, shoulders and legs and is reportedly in serious but stable condition. Hatzalah transported him to Kings County Hospital.
Police remained on scene investigating the incident.