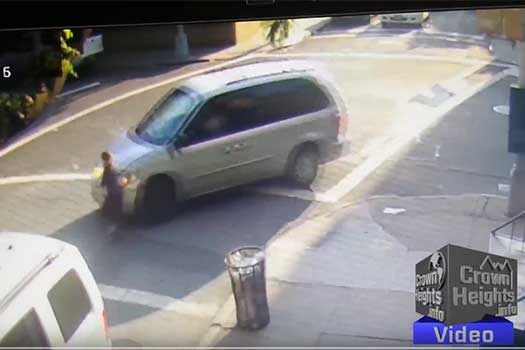 A young girl was struck by a minivan while attempting to cross the street at the intersection of Albany Ave. and Union St. in Crown Heights. The horrifying incident was captured on surveillance video.
The incident occurred yesterday, Wednesday, at around 6:45pm.
The minivan was turning from Albany onto Union Street when it struck the girl. Both the minivan and the girl had green lights, but the pedestrian had right-of-way.
After the girl was hit, the driver of the minivan exited his vehicle and carried the girl to the sidewalk. He stayed with her while another bystander ran inside Albany Bakery to get help, since neither had Hatzalah's number saved on their phones.
A Shomrim volunteer who was shopping in the store heard the call for help and immediately radioed for emergency medical assistance, and a call was put forward by the Shomrim dispatcher to Hatzalah.
The girl was rushed by Hatzalah to an area hospital for treatment. Her condition is not known to us at this time, but is not believed to be serious.
After reviewing the video, a Hatzalah volunteer asked CrownHeights.info to publicize that it is of utmost importance that a person not be moved at all following a traumatic injury, as that can worsen the damage, r"l.
This article was updated to correct an inaccurate report that the girl initially declined medical attention. In fact, she was unconscious from the accident until Hatzalah arrived, and the driver remained with her the entire time until she was transported to the hospital. We apologize for our mistake.