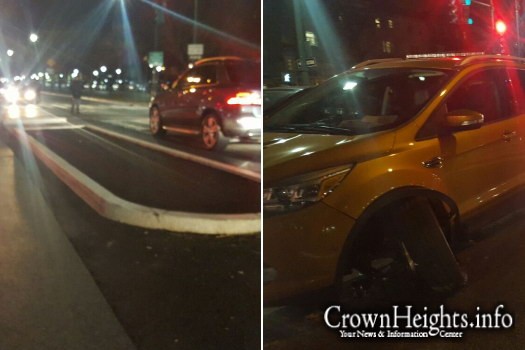 Hatzalah Car Wrecked by New Eastern Parkway Island
While responding to an emergency call last night, a Hatzalah volunteer's vehicle struck the new pedestrian island installed at the intersection of Eastern Parkway and Kingston Ave. by the NYC Dept. of Transportation, completely destroying the brand new vehicle.
The incident occurred at around 8:00pm. The volunteer, who had purchased the vehicle merely one week prior, was turning from Eastern Parkway onto Kingston Ave., where he did not notice the newly-installed island.
The underside of vehicle was completely destroyed by the impact.
Since they were installed, the new islands have caused several similar accidents due to drivers' lack of awareness that they are there.
Area residents have been complaining for a while that there are no signs or barriers on the island, rendering them almost invisible to drivers and giving a false sense of security to pedestrians standing on them.
Their letters and phone calls have so far been ignored by the DOT.