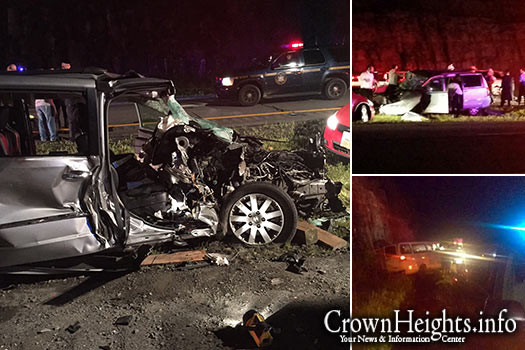 CH Family Involved in Devastating Crash on NY-17
A Crown Heights family, on their way upstate for Shabbos, was involved in a very serious crash on NY Route 17 near exit 113 late last night. A total of Six were injured, four of them seriously including two children.
The crash occurred at around 12:15am on New York Route 17 between exits 114 and 113 in the Catskill Mountain region. Two vehicles, a 15 passenger van and a Chrysler Town and Country minivan were involved.
According to sources the 15 passengers van was stopped in middle of the busy highway – possibly due to a breakdown – and was rear-ended by the minivan, sending both vehicles into a ditch.
Dozens of Hatzalah volunteers and nearby fire department companies were on the scene and had to cut into both vehicles in order to free the pinned injured – one of the victims took over 45 minutes.
Two patients were airlifted, one to Albany Medical Center and another to Hackensack University Medical Center. Four additional patients were rushed to area hospitals by Hatzalah. All are listed in critical and stable condition.
The public is asked to say Tehillim for:
Yosef Yitzchak HaCohen ben Rivkah Leah – Kapitel 31 – He is very seriuse condition.
Chaya Mushka bas Shaina Batya – Kapitel 11
Chana Bas Shaina Batya – Kapitel 9
Yosef Yitzchak Ben Fayga – Kapitel 42