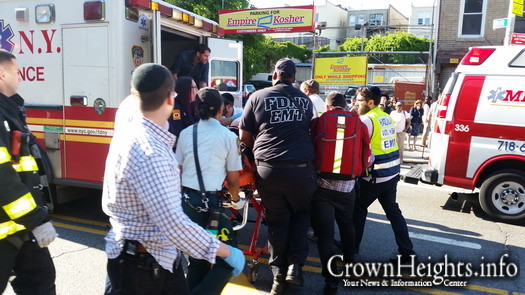 TRAGEDY: Noted Mashpia Dies in Vehicular Accident
A noted Mashpia, who served as a longtime Mashgiach of Yeshivas Tomchei Temimim-770, was run over multiple times by a car on the corner of Empire Blvd. and Balfour Place. After frantic efforts to save his life, the man tragically passed away from his injuries.
The incident occurred today, Monday, at around 5:30pm.
The man – who is not being named pending notification of his 91-year-old mother – was crossing the street alongside his wife when he was hit and run over by a white livery cab.
The driver, realizing that he had hit something but unaware that it was a person, backed up his car – running the man over a second time; in the ensuing mayhem, the driver then drove forward – running him over a third time.
Witnessing the horrific crash and first on scene was a pair of Shomrim volunteers, both of whom immediately sprang into action, forcing the driver to stop his vehicle while calling for emergency rescue services and attempting to free the gravely injured man from under the vehicle.
Together with a number of bystanders they attempted to lift the car enough to free the man. Another Shomrim volunteer arrived with a large car jack and further lifted the car, at which point firefighters arrived on scene and joined in the rescue effort.
Hatzalah then arrived on scene and immediately began CPR, which continued once he was freed and in the ambulance. He was rushed to nearby Kings County Hospital where he later passed away.
The scene remained closed off for many hours while police conducted an investigation into the crash. The driver remained on scene and was questions by authorities.
Once the NYPD Crash Investigation Squad completed their investigation they turned the scene over to volunteers with Chesed Shel Emes who ensured that proper Kavod HaMes [respect for the dead] was performed.