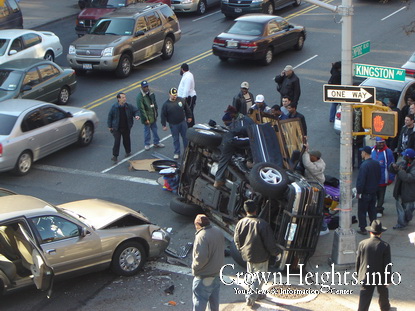 At around 12:30 this afternoon a SUV attempted to make a left turn from Empire Blvd. onto Kingston Ave. but was T-Boned by a car service who was traveling in the opposite direction down Empire the result of which was that the SUV rolled onto its driver side, and trapping the three people inside.
3 Shomrim members who witnessed the scary crash immediately called for backup and for Emergency Services, the few member then donned protective gear and removed the three trapped people from the SUV and laid them down on the sidewalk to await medical treatment from Emergency medical Service.
More pictures and a video clip in the Extended Article.

Hatzalah responded to the call along with FDNY EMS and treated the patients including two additional ones from the car service, the driver and his passenger, a total of 5 ambulances arrived on scene. All the patients were transported to Kings County Hospital and all were listed in stable condition with minor injuries.
Shomrim members that were on scene were trained in a course known as CERT (Community Emergency Response Team), they were trained by FDNY and Police trainers and are certified to hand small scale MCI's (Mass Casualty Incident). Their training proved very useful at the scene.
NYPD ESU then up righted the SUV and await road tow to come and clear the vehicles. Traffic on Empire was backed up for nearly and hour. There were no Yidden involved in this incident.
Video Clip:
——-