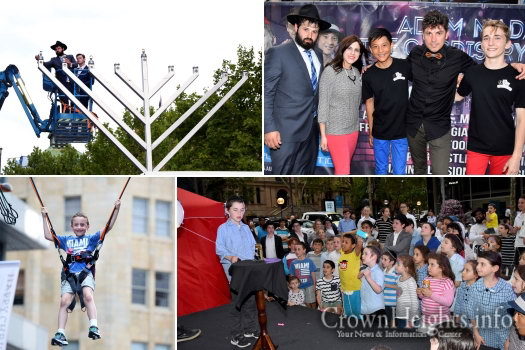 The 3rd night Chanukah, Thursday, was a special time in Sydney, Australia. After weeks of preparations, fundraising, advertising, campaigning, building, cooking and drawing, the highly anticipated and longest-standing Chanukah event in Australia (going on 31 Years) finally arrived.
In Martin Place, Sydney, Music was blaring, kids squealed with delight as they jumped on the Bungee trampoline or enjoyed the jumping castle, face paints and other attractions and parents mingled around enjoying the refreshments.
Learning from past experience, the food distribution was a breeze, everything was pre-cooked and packed by Mila's catering just sitting in the warmers ready to go, ensuring and end to the long lines of hungry people kvetching for something to eat.
Greetings came from the Premier of New South Wales by way of a special Letter for the event that was read and delivered by The Hon. Scott Farlow MLC, Parliamentary Secretary to the Premier and Leader of the House in the Legislative Council.
Next came The Hon. Greg Donnelly MLC, Deputy Opposition Whip in the Legislative Council representing the Labour Party, who shared greetings with the crowed and spoke of the Jewish community don't just celebrate themselves but always look to share their celebrations with others.
The third Government representative was the Deputy Lord Mayor of Sydney, Councillor Jess Miller, who spoke about making sure the city recognizes and celebrates diversity in the community and the importance of the city of Sydney being a sanctuary for diversity. Councilor Miller also acknowledged the memory of Leo Port, who was a former Jewish Lord Mayor of Sydney who helped establish much of today's infrastructure.
Rabbi Elimelech Levy, Director of Chabad Youth NSW and member of Chabad NSW executive, spoke of the importance of being a representative of your beliefs and ideals through your actions and the message of Chanukah which teaches that ultimately, Good will prevail.
Before the lighting ceremony took place, a moving rendition of Oseh Shalom was played and sang by the brothers and cantors Yehoshuach and Yehuda Niasoff as a prayer and tribute to the victims and survivors of the Lindt Cafe Siege that took place only meters away from the Giant Menorah in 2014.
The Hon. Scott Farlow MLC went up in the cherry picker with Rabbi Levy to light the Shamesh candle, thanks to Rabbi Danny Yaffe of CBD Chabad, who gave his spot on the ride to the Legislator.
Many hundreds of people braved the wild and wet weather to participate in this prestigious event.
The Giant Menorah Lighting in Martin Place was preceded by a Car Menorah Parade, organized by Chaim Kimhi, one of the Youth Directors of the Sephardi Synagogue, under the auspices of Rabbi Michoel and Dalia Chriqui, and a student at the Tzemach Tzedek Smicha program, in conjunction with Chabad Youth NSW.
Special thanks to all the volunteers and helpers who ensured that another Kiddush Hashem should take place in Martin Place, in the heart of Sydney, Australia.