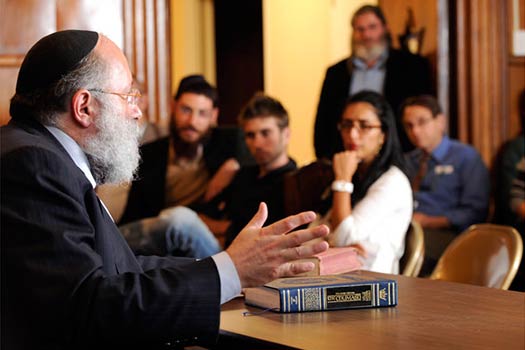 This week's edition of MyLife: Chassidus Applied with Rabbi Simon Jacobson, Episode 173, will air tonight, Sunday, here on CrownHeights.info, beginning at 8:00pm. This week Rabbi Jacobson will address the topics: Chassidus Applied to Tisha B'Av; What Should We Make of the Recent Strife in Israel? When is it Okay to Deem a Task Impossible? How Does Inspiring Others Not Compromise My Own Personal Avodah? What Can We Do About the Declining Standards at Weddings? How to Improve One's Memory.
MyLife MP3s are available to download from the Meaningful Life Center Shop. Become a free member today and receive unlimited Mylife MP3 downloads.
What lessons does the day of Tisha B'Av offer us today? How can we apply its message to our lives – a message that seems to be one of immense sadness and destruction?
What should be our attitude to the recent escalation of strife in Israel, especially during these Nine Days?
Can a chassid ever say "I can't"? Is it ever acceptable to resign to the fact that a task is impossible and unrealistic? We're conditioned to believe that if we have resolve to do something, and think optimistically, then everything is possible. But are there instances where we have to be honest with ourselves and realize that what we're attempting is just not feasible?
In these days, when we are remembering the destruction of the Temples, I have a practical question about memory: how does one improve it? Is it possible to increase our mind's capabilities of retention? Or is a good memory something we're either blessed with or not? There are a ton of articles and books on this subject; Google offers 168 million search results on this question. Being someone who was blessed with this gift of exceptional memory, can you please shed some light on this matter?
It seems that we're forgetting what a Jewish marriage really is. We're so focused on the party planning and entertainment and often times the real narrative is overlooked, namely the joining of two souls. Does the Rebbe discuss the laxity of standards at weddings? How can we make sure that the celebration and party echo the real message of a Jewish wedding?
As Lubavitchers, the message of Shlichus is paramount in our lives. From childhood, we are taught that our primary role is to bring as much light into the world as we can. Yet, doesn't devoting our lives to inspiring others compromise our own personal Torah growth and advancement? It seems inevitable that dedicating our lives to helping others come closer to Yiddishkeit will detract from our own avodah. How does the Rebbe address this?
These will be among the relevant issues Rabbi Jacobson will address in this week's 173rd episode of MyLife: Chassidus Applied.
Rabbi Jacobson will also review the following essays submitted in the last MyLife: Chassidus Applied essay contest: "The Secret to Lying Your Way Through Marriage" by Shalom Lipszyc; "Be You. G-d Wants You." by Chana Rachmani; and "The Thirsty Soul" by Avigail Halevy. These and other essays can be read online at meaningfullife.com/essays.
And finally, the Chassidus question of the week: Understanding the concept of Ratzon –  Part II.
This hour-long dose of insights is meant to inform, inspire and empower us by applying the teachings of Chassidus to help us face practical and emotional challenges and difficulties in our personal lives and relationships. To have your question addressed, please submit it atmeaningfullife.com/mylife.
The topics in this Sunday's hour-long broadcast will include:
Chassidus Applied to Tisha B'Av
Lessons from Shabbas Nachamu
What should be our attitude to the recent escalation of strife in Israel, especially during these Nine Days?
When is it ok to say "I can't"?
Can we improve our memory retention?
How can I balance personal avodah and inspiring others?
What to do about the laxity of standards at weddings?
Large families: follow-up
Spiritual time zones: follow-up
Chassidus Question: Understanding Ratzon: Part II
MyLife Essays: The Secret to Lying Your Way Through Marriage, Be You. G-d Wants You., The Thirsty Soul
In what has now become a staple in so many people's lives, MyLife: Chassidus Applied addresses questions that many people are afraid to ask and others are afraid to answer. When asked about the sensitive topics he has been addressing, Rabbi Simon Jacobson commented, "I understand that the stakes are high and great care has to be taken when speaking openly, but the silence and lack of clarity on matters plaguing the community can no longer go unaddressed. The stakes of not providing answers are even higher."
The on-going series has provoked a significant reaction from the community, with thousands of people viewing each live broadcast and hundreds of questions pouring in week after week. At the root of every question and personal challenge tackled by the series is the overarching question: Does Judaism have the answers to my personal dilemmas?
In inimitable "Jacobson-fashion", the broadcast answers people's questions in simple, clear language while being heavily sourced. Each episode is jam-packed with eye-opening advice from the Rebbeim, gleaned from uncovering surprising gems in their letters, sichos and maamorim that address our personal issues with disarming relevance. Simultaneously, Rabbi Jacobson is able to crystallize a concept quickly, succinctly, and poignantly for any level of listener.
All episodes are immediately available for viewing in the MLC's archive and can be downloaded as MP3s for listening on the go.
Questions may be submitted anonymously at meaningfullife.com/mylife.