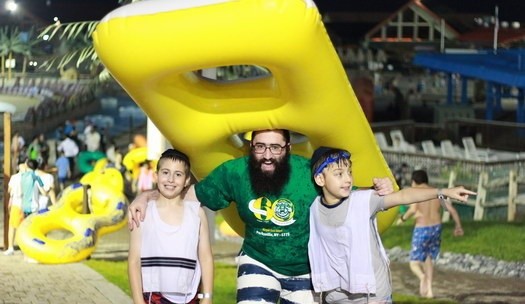 Illustration photo
Rabbi Moshe Wiener, author of the Sefer Hadras Ponim Zokon on the Halachic prohibition of cutting one's beard, forwarded to us the following letter from the Rebbe to the directors of a summer camp who asked whether it was okay to hire a staff-member who cut his beard.
The following is the Rebbe's response (Translation by Rabbi Eliyahu Touger):
Regarding the camp: I received comments from several people that the success of the camp would be increased if the counselors would align their external appearance with the [values and principles] that they wish to ingrain within the children. They immediately added that, of course, regarding conducting oneself according to Shulchan Aruch, everything was in order, but several of the counselors did not have a beard. It can be actually seen that the appearance of someone who has a full beard makes an impression on anyone with whom they come in contact, and particularly on children of a young age. Such a person serves as a living example of the image of Jewish spiritual giants which children – and even adults – picture in their minds.
As is well known, an important Rabbinic leader of the general Jewish community brought several arguments against the ruling of the Tzemach Tzedek in his responsa (Yoreh Deah, responsum 93) [which forbids cutting the beard in any manner]. After [his] analytic discussion [of the matter], one of the listeners asked [the Rabbi]: "How did he picture the image of Moshe Rabbeinu, the receiver of the Torah? Did he have a beard?"
Without thinking at length, the Rabbinic leader answered: Of course, he had a beard – even though that explicitly, the Tanach only mentioned Aaron's beard.
The questioner than asked: If the license to cut one's beard is so clear in his opinion, why was it so obvious to not only him – but indeed even to non-Jews – that Moshe Rabbeinu had a full grown beard? The logical conclusions of this are obvious.
Our Sages' adage: "We do not cry out over the past." In this instance, however, I am focused more on the future than on the past. May it be G-d's will that these words be accepted according to their intent, for they were meant for your good and the good of your wife in material and spiritual matters.
(Igros Kodesh – Miluyim – 13 Menachem Av 5718)