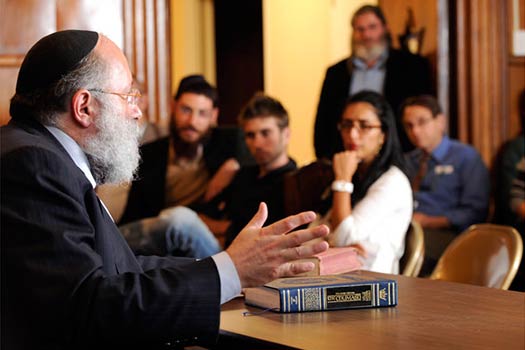 This week's edition of MyLife: Chassidus Applied with Rabbi Simon Jacobson, Episode 66, will air tonight, Sunday, here on CrownHeights.info, beginning at 8:00pm. This week Rabbi Jacobson will address the topics: The Lost Art of Farbrenging; Doubts in Marriage; Vegetarianism.
A Chassidishe Farbrengen is vital to the life of a Chassid. But what constitutes a true farbrengen according to the Rebbeim? "Often I am left uninspired and unmotivated. Additionally, it's often difficult to concentrate at farbrengens where there are groups of people speaking noisily amongst each other while the Mashpia is farbrenging. I also get distracted by those who pull out their cell phones during farbrengens. In my mind, nothing else should be happening at a farbrengen other than the farbrengen itself. How does one treat those individuals who are causing a disturbance? How can we be 100% present at a farbrengen?"
Last week's candid conversation about divorce opened the dialogue for people who feel unhappy or are having doubts in their marriage, eliciting many questions and comments from viewers. In episode 66 Rabbi Jacobson will address steps to be taken to repair a relationship before rushing to the last resort. What advice and hope can be given to those who have been  unhappily married for many years? Are we doing our children a favor by staying 'unhappily' married? Can a stagnant marriage be revitalized?
Other topics to be addressed in this week's episode include: What does Chassidus say about vegetarianism?
What are some practical ways to empower those in the community who have so much to offer but find themselves marginalized? How can we inspire the current leadership to embrace change? What are some actual steps that can be taken to reenergize ourselves and in turn, our communities?
In addition, we will continue reviewing essays submitted in the MyLife: Chassidus Applied contest, presenting key ideas of selected essays, and will analyze the elements and criteria that made the essay stand out, while also providing guidance on how to improve your capacity in applying Chassidus, helping you become next year's winner! In this week's episode Rabbi Jacobson will be discussing: "The Perpetual Marriage: יום מחדש כל להתחתן" by Yeshayah Marantz, "Effecting Change: Why Knowledge Really IS Power" by Chanie Wilhelm, and "When Failure is Really Success" by Sholom Kesselman.
This hour-long dose of insights is meant to inform, inspire and empower us by applying the teachings of Chassidus to help us face practical and emotional challenges and difficulties in our personal lives and relationships. To have your question addressed, please submit it at www.meaningfullife.com/mylifelive.
The topics in this Sunday's hour-long broadcast will include:
Chassidus Applied to Pesach Sheini and Lag B'Omer
On being vegetarian
How a Chassidishe Farbrengen can change your life
Doubts in your marriage? (follow-up to divorce crisis)
Uninspired by community (follow-up)
Women in public roles (follow-up)
MyLife Essays:  Perpetual marriage, failure, and effecting change
MyLife: Chassidus Applied addresses questions that many people are afraid to ask and others are afraid to answer. When asked about the sensitive topics he has been addressing, Rabbi Simon Jacobson commented, "I understand that the stakes are high, but the silence and lack of clarity on matters plaguing the community can no longer go unaddressed. The stakes of not providing answers are even higher."
The on-going series has provoked a significant reaction from the community, with thousands of people viewing each live broadcast and hundreds of questions pouring in. At the root of every question and personal challenge tackled by the series is the overarching question: Does Judaism have the answers to my personal dilemmas?
In inimitable "Jacobson-fashion", the broadcast answers people's questions in simple, clear language while being heavily sourced. Each episode is jam-packed with eye-opening advice from the Rebbeim, gleaned from uncovering surprising gems in their letters, sichos, and maamorim that address our personal issues with disarming relevance. Simultaneously, Rabbi Jacobson is able to crystallize a concept quickly, succinctly, and poignantly for any level of listener.
All episodes are immediately available for viewing in the MLC's archive and can be downloaded as MP3's for listening on the go.
Questions may be submitted anonymously at www.meaningfullife.com/mylifelive.