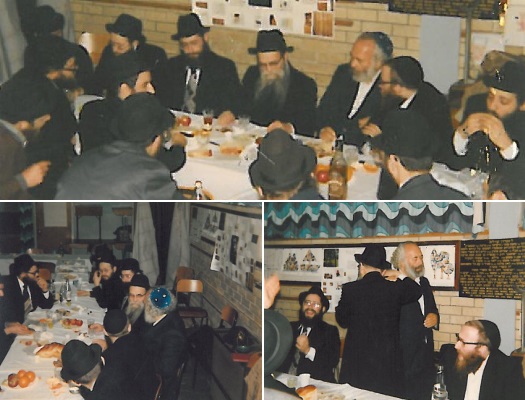 Tonight marks the 20th Yahrtzeit of Reb Shlomo Carlebach, OBM. During a visit to Sydney, Australia, for several concerts in the summer of 1979, he made a surprise visit to the Chabad Yeshiva Centre while a Yud Beis Tammuz farbrengen was being held by local Anash. Rabbi Aryeh Solomon was present and took photos of the occasion, which he shared with CrownHeights.info.
In the photos, Reb Shlomo can be seen seated next to Rabbi Mendel Feldman, OBM, of Baltimore, who led the farbrengen with Reb Shlomo and who spoke at length about Teshuva B'Derech Nes [miraculous teshuva] according to the Friedicker Rebbe.
Seated at the head table are: Rabbis Pinchos Feldman, the Rebbe's Shliach to Sydney; Rabbi Mordechai Gutnick, then head of Sydney Kashrus and now Rov of Elwood Synagogue in Melbourne; Rabbi Boruch Lesches, then Rosh yeshiva of Sydney's Yeshiva Gedolah and now Rov of Anash Kehillah of Monsey; and Rabbi Avrohom Perlow, senior shochet in Sydney and Rov of Tzemach Tzedek Shul.
Reb Shlomo can also be seen dancing at the conclusion of the farbrengen with Reb Mendel Feldman, OBM.
Photos courtesy of Rabbi Aryeh Solomon