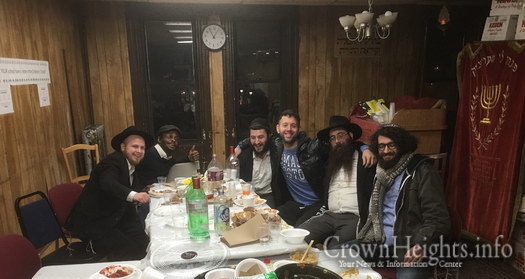 "New York is too cold, but thanks to some warmer people, it is definitely a place worth coming back to." These are the words of Gabe Fresa, 22,  former National Guardsman, and current student of Islamic and Christian studies at Furman University, posted on Facebook.
Gabe felt it was time to take a more in-depth look at his own spiritual tradition; and what better place to do that than at Hadar Hatorah's Yeshivacation, the world's first Yeshiva for returnees to Judaism, and in Crown Heights – the heart of the Chabad world. Yeshivacation is a 10-day Jewish studies seminar catered to newcomers' during winter vacation.
Along with a dozen other Yeshivacationers hailing from California, Pennsylvania, South Carolina, Texas and further, Gabe got just what he was seeking: workshops delving into Safrus, Kashrus and Tzitzis; a trip to the Ohel, the Rebbe's office, 770, the matzo bakery- they were entertained, engaged and inspired.
Special introductory-level classes were arranged in addition to Hadar Hatorah's regular level classes, creating a comfortable atmosphere in which to ask questions and learn the basics. Guest lecturers included Professor Binyomin Abrams (Hadar Hatorah alumnus) speaking on "Science and Torah"; Rabbi Levi Garelik on "Moshiach – Let's Learn the Facts"; Rabbi Yitzchok Hecht on "Relationships"; and so much more. The group was impressed, and at least two of the students are already planning to come back to learn full-time this year!
To learn more about Hadar Hatorah, visit www.hadarhatorah.org or call 718-735-0250.