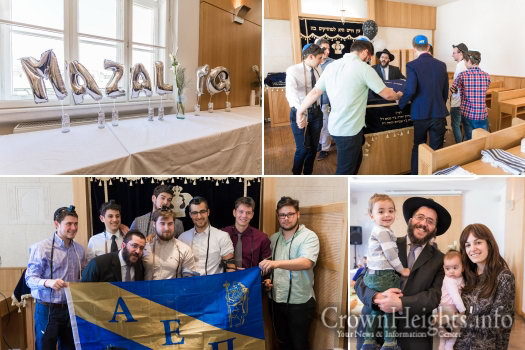 When Chabad on Campus International teamed up with Alpha Epsilon Pi (AEPi) International to launch a Bar Mitzvah program, it's unlikely they would have expected Vienna to be the location for the first graduating group of Bar Mitzvah students.
Yet, earlier this month five students from the Lauder Business School were joined by their families from Switzerland, Germany, Hungary and Ukraine as they were called to the Torah and celebrated their Bar Mitzvahs for the first time.
The AEPi brothers studied over a seven-week period with Rabbi Boruch Sabbach, the Chabad co-director of the Jewish Heritage Center on campus. The lessons covered Judaism and various areas of Jewish practice, including the observance of Tefillin.
The Students were called up to the Torah on Saturday as 60 family members and friends looked on. On Sunday, they prayed in their new sets of Tefillin which were arranged by Rabbi Sabbach with the help of the Chabad on Campus International Tefillin Bank.
Although studies at the Lauder Business School are in English, the emotions associated with the event were distinctly European. Magdolna Várkonyi, an 88-year-old holocaust survivor who came from Hungary wept as she described how moved she was to see her first great grandchild, Benjamin Pretzer, have a Bar Mitzvah.
For Rabbi Sabbach, the success of the program and the intensity of the event was beyond his expectations. "This program was special in that we were able to see immediately how the impact reverberated to their families as well," said rabbi Sabbach. "Several of the parents spoke about a new commitment to Judaism and a desire to send their younger children to Jewish Schools. It was really a very special and moving weekend."
Peter Vandor, one of the Bar Mitzvah boys, was similarly surprised by result of the program. "Knowing about my roots and getting closer to them was the main purpose I wanted the Bar Mitzvah program to happen, but even in my wildest dreams I've never thought it would be this successful. I feel like we, as five Jewish students, made a huge step forward with our Jewish identity. I give a huge shoutout to Rabbi Boruch for guiding us as our mentor and making this program possible."
Dani Markus, another of the students, spoke about why he decided to have a Bar Mitzvah nearly 10 years after the traditional age of 13. "In my family, Judaism was never a core subject of conversation. However, since I arrived at the Lauder Business School, I felt that I needed to know more about this subject. During the preparation period held by Rabbi Boruch we got to know the hows and whys of Jewish customs and traditions. At the end, we had the honour of having a Bar Mitzvah supported by Chabad and JHC."
"It was extraordinary to guide these five young men through this important Jewish milestone. They showed a real committed to the lessons and their questions demonstrated a seriousness about the subject and their Judaism." concluded Rabbi Sabbach.
A Bat Mitzvah program is being planned for next year and six students have already signed up.