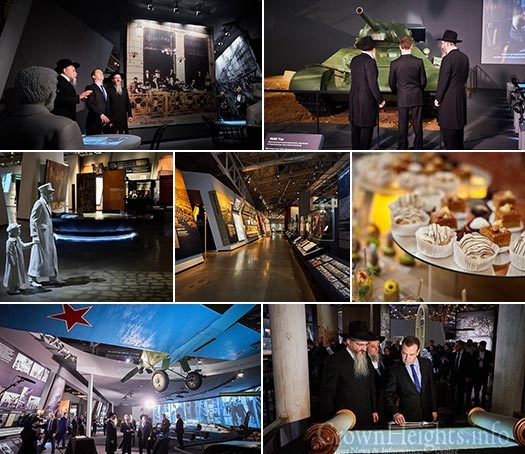 On the eve of the International Holocaust Remembrance Day, Russia's Prime Minister Dmitri Medvedev visited Moscow's Largest Jewish Museum.
The Prime Minister was welcomed by the founder and initiator of the museum, Chief Rabbi of Russia, Rabbi Berl Lazar, together with the President of the Jewish Federation of Russia, Rabbi Alexander Boroda.
In his speech, Mr. Medvedev said: "Of the six million Jews that were killed by the Nazis during the Holocaust, an estimated 2.7 million were killed on Russian soil. Therefore the tragedy of the Jewish people is one which affects all of us, regardless of faith. This incredible museum, built by the Federation of Jewish Communities in Russia, is not only one of the largest Jewish museums today, but is also the most technologically advanced, combining innovation with sensitivity. It is of utmost importance that children, youngsters and people of all ages visit this museum."
On Friday, January 27, the world marked Holocaust Remembrance Day, as was decided by the UN. A special ceremony took place at the museum, with around 50 ambassadors in attendance. During this ceremony, Rabbi Lazar pronounced the "Kel Maley Rachamim" prayer in memory of those who perished in the Holocaust.
While Prime Minister Medvedev received a comprehensive tour of the museum, and all of its departments, he took great interest in the various exhibits. He was given explanations starting from the six days of creation until the present day, when Judaism is once again experiencing a revival in all of Russia.
The museum is spread over thousands of square meters and includes many different halls dedicated to various periods in Jewish history. It is now considered the world's premier museum and is hosts thousands of visitors each month.
After writing about his impressions in the Guest Book, Mr. Medvedev spoke before the Museum's administrators and dozens of media outlets. He expressed gratitude on behalf of the government for establishing this museum, and for the dedication of the Jewish community to Holocaust survivors in Russia, teaching the younger generation, and not allowing them to forget about the difficult times during WWII.
Photography by Levi Nazarov