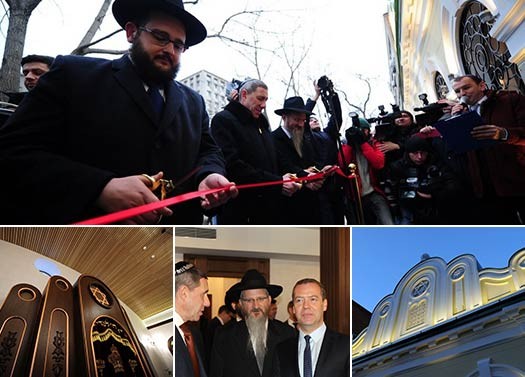 A brand new Chabad Center was dedicated last week in the center of the city of Vladivostok, Russia which is near the China and North Korea borders.
The center is home to an impressive Shul, a luxurious Mikva, a library, a Chesed Center and school.
Joining in the rededication ceremony was Rabbi Berel Lazar, the Chief Rabbi of Russia, the Russian Prime Minister Dmitry Medvedev, the Mayor of Vladivostok, Rabbi Mendel Pevzner, the Rabbi of Petersburg and donor Mr. Kogen alongside many other public officials. The event was hosted in honor of the local Shluchim Rabbi Shimon and Tzippi Varakin.
Vladivostok is located 9 hours away from Moscow by airplane and is home to thousands of Jews. The building, which is over 100 years old, was returned to the Federation of Jewish Communities of the CIS some ten years ago, and since much effort and resources went into renovating and restoring it ot its former glory and to suit the communities needs.