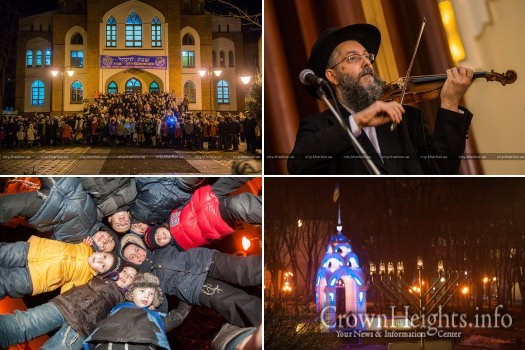 In honor of the Year of Hakhel/Unity, Chanukah lit up the Ukrainian city of Kharkov more than ever before! Every night of Chanukah, more and more Jews of all ages gathered together to celebrate, rejoice and spread the light of Chanukah.
In the Platinum Plaza, hundreds gathered for the lighting of a beautiful menorah, followed by a performance of the Or Avner school and an amazing fire show.
Mordechai Brodsky, the world renowned violinist, played for a packed crowd in the Grand Choral Synagogue on Pushkinskaya St. on the 3rd night of Chanukah. The crowd was moved by his beautiful renditions of niggunim and Jewish songs – especially as Brodsky was born in Moscow and shared his amazing story of his return to Yiddishkeit, which began with Chanukah gelt received from the Rebbe as a soldier in the Israeli army on the 3rd night of Chanukah over 30 years ago. The kindergarten boys, dressed as Maccabees, marched to a victory dance and the school sang and played Chanukah songs with pride.
Rabbi Moshe Moskovitz lit the large menorah on Pushkinskaya St., and reminded everyone of the Rebbe's message to always add in good as the Chanukah candles teach us – and to use every opportunity in this Hakhel year to unite the Jewish people.
Brodsky held a special farbrengen for the new 'Women's Kollel" and "Men's Kollel," Sharing his story and special message with music and humor.
On the 5th night, Chanukah music filled the main street of Sumskaya, as a giant menorah was lit from a cherry picker, and the crowds danced and cheered below. A menorah parade drove through the streets of Kharkov, all the way to the Daffy Department Store, where a whole crowd was waiting to light yet another menorah, and celebrate with jugglers and klezmer music.
The students in 'Stars' had a grand Chanukah program, and also made sure to spread the light of Chanukah in their homes.
The Machon girls and Yeshiva boys visited the elderly and went on mivtzoyim throughout the week, giving out menorahs and doughnuts.
The schools had fun Chanukah programs throughout the week – decorating doughnuts, playing dreidel and Chanukah games, and sent in pictures of their home menorah lightings for a fun raffle and game.
On the 8th night of Chanukah, cars of all shapes and sizes proudly drove through the main square and highways – spreading the Chanukah light. A fun program in the Ecopark Zoo began with a menorah lighting and a fire show.
The lights of Chanukah in Kharkov will definitely continue to shine as the year of Hakhel will bring only more opportunities to gather the community together for only good things.