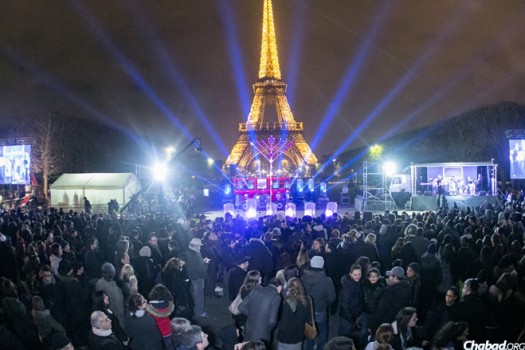 Photo: Yaacov Guez/Chabad.org
Following the heinous terror attacks in recent weeks, Paris police have informed local Chabad shluchim that this year, the Chanukah activities will have to be far less visible and many of the major lighting ceremonies will have to be canceled due to security fears.
From The International Business Times:
Paris police are reportedly discouraging Jews from lighting the menorah to mark Hanukkah this weekend, after a series of terror attacks last month killed and wounded hundreds. The warning comes as some Jewish leaders have expressed concern about anti-Semitic threats, after Islamic State group supporters attacked several locations — including a theater that held pro-Israel events — on Nov. 13.
Jewish organizations in Paris had vowed to hold public Hanukkah ceremonies, including a live concert, starting at sundown Sunday to honor the Jewish holiday. The Jewish outreach organization Chabad Lubavitch is sponsoring more than 60 celebrations and nightly public menorah lightings around Paris, including at the Eiffel Tower. American Jewish DJ Nachum Segal had scheduled a concert titled "Let There Be Light: The Concert of Jewish Unity," at the Synagogue de la Victoire, or Grand Synagogue of Paris, next week. The show was organized "to celebrate the lives of those living in France, and to honor the Jewish communities," according to a news release.
France has Europe's largest population of Jews. Last year, more than 6,000 Parisians, dignitaries and visitors participated in The Eiffel Tower menorah lighting. The ceremony has been a tradition for 24 years.
Click here to continue reading at The International Business Times.