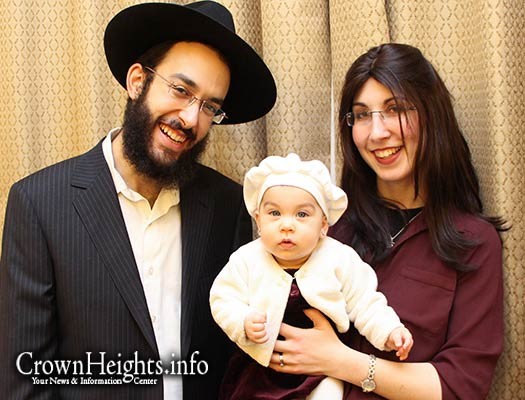 This week the Singer family will be moving on Shlichus to Bristol, England where they will serve as Shluchim on campus. Chaya Singer writes about their first Shlichus experience.
by Chaya Singer
Our first Purim as a young newlywed couple was quite an experience! My husband, Mendy, and I were in Chengdu, China, substituting for the Shluchim who had to leave for a few months.
Growing up on Shlichus in Rochester NY, Purim for me usually meant being surrounded by my family in good spirits with all the community festive comings and goings.
Purim in China was quieter but busy. It did not include happy well-wishers knocking on the door with Mishloach Manos and cheerful greetings. It meant making sushi, cooking for and organizing a Purim party and having a solo Megillah reading!
However, the Purim I would like to tell you about is the second one. This time I and my young daughter were at my parents' home – but without my husband. We had been recently appointed as Shluchim on Campus in Bristol, England, and before making the move, Mendy traveled to England before Purim for a quick visit to organize things. Instead of going home to his family in Manchester he decided to bring the Purim spirit to Bristol, a community with over 1,000 Jews and approximately 700 Jewish students at the university. Mendy made sure there would be Megillah readings both night and day plus a party for all.
In addition to a packed schedule, meeting community members and students, Mendy made two special trips. One was to a Holocaust survivor who had escaped Germany on the famed Kinder Transport, and one to visit 'Jonathan', a young Jewish man behind bars. It was this second visit that became the highlight of the whole trip.
Early on that hectic Purim morning Mendy drove to the prison near Bristol. He brought along his Megillah and two sealed (prison regulations) packages of food to give as Mishloach Manos. The plan was for Mendy to give Jonathan the Mishloach Manos so that he could then give it back to Mendy, thereby fulfilling the Mitzvah of giving two foods to a fellow Jew on Purim day. After Mendy met Jonathan and read the Megillah for him, he took out the Mishloach Manos saying, "I have something for you." Jonathan responded, "Wait, I have something for you!" Mendy was taken aback, not thinking that this man in prison could possibly have anything of his own to give him. To Mendy's astonishment, Jonathan went to his locker and took out a package saying, "I hope this is Kosher. It's two food items so it should be good for Mishloach Manos." With a big smile he handed Mendy a banana and a can of sardines!
Jonathan told Mendy how each week he earns a few pounds from his job in the prison, with most of it being spent on a weekly phone call to a Chavrusah, a Torah study partner. "Although the calls are expensive," he explained, "my hour on the phone learning Torah is worth every penny, it keeps me going all week." When Jonathan had heard that a Rabbi was coming to visit him on Purim, he saved up his last few pennies to buy a banana and a can of sardines so he could fulfill the Mitzvah of Mishloach Manos. "Many people come to visit, including Rabbis," he said "but this is the highlight of the past three years for me, as no one has ever come to visit on Purim itself. I finally have the opportunity to do these Purim Mitzvos!"
Before the hour was over Jonathan asked, "Upon your return to New York, will you be visiting the Ohel? Can I give you a note for the Rebbe?" Just before the Warden came to escort Mendy out, Jonathan finished writing his 'tzetel', "Dear Rebbe, I request a blessing… I should leave prison as a better Jew…"
The two men parted with tears in their eyes, and Mendy left with the banana and the can of sardines – the most precious Mishloach Manos he had ever received. That one hour on Purim morning made his entire trip to England so extra meaningful! When I heard this story I knew that although we couldn't spend our second Purim together as a family, someone else had the most special Purim of his life.
This experience was the first of, B'ezras Hashem, many Shlichus experiences to come at Chabad of Bristol, England. As we now embark on our new Shlichus we look forward to touching Jewish hearts and lives, and bringing a warm, Jewish atmosphere to the Bristol university campus and community.
Rabbi Mendy and Chaya (nee Mochkin) Singer were appointed as Shluchim to Bristol, UK by the 'Vaad of Chabad on Campus of the UK'. They are moving out to Bristol this week iy'h.
Partner with us, click here to donate through their website.