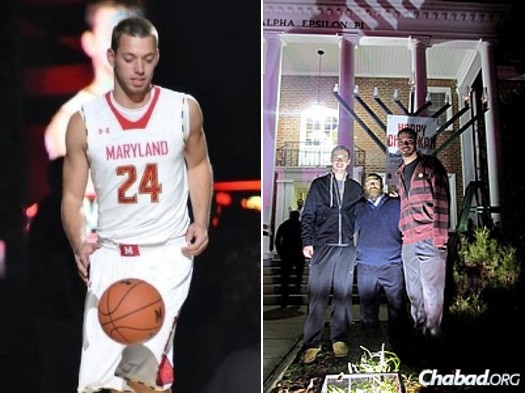 Right: Jacob Susskind with Rabbi Eli Backman and brother Ben Susskind at the AEPi house during Chanukah at the University of Maryland.
It's a family tradition of sorts. Jacob Susskind's father played basketball for a year as an undergraduate at Mulhenberg College in Allentown, Pa. His mother, while not a college athlete, is a personal trainer and holistic nutritional consultant.
So it doesn't surprise people that their son is shooting some mean hoops of his own. And as "March Madness" approaches, so, too, does an eye towards Susskind.
The 22-year-old senior at the University of Maryland has been playing for the Maryland Terrapins since his freshman days in College Park.
"I have played basketball for as long as I can remember," says Susskind, who switches between positions as a shooting guard or small forward. "I like the competitive nature of it, and I have always been good at it. It's a fun sport to play."
The oldest of three boys—Ben is a sophomore, also at Maryland, and Noah is a high school junior—Susskind grew up in West Orange, N.J., a suburb about 20 miles west of New York City. His parents, Jeff and Shari-Beth Susskind, are members of the Etz Chaim Synagogue in nearby Livingston, N.J.
When it came time to find a college, he says, "I wanted to go and branch out and meet other people, but I also wanted to have access to Jewish culture and Jewish life around me, so I wouldn't feel out of place."
That means going to Shabbat and holiday meals as well as other programs at the University of Maryland Chabad House, the Bais Menachem Chabad Jewish Student Center, run by Rabbi Eli and Nechama Backman, which serves the more than 6,500 Jewish students and faculty at the university. This past December, Susskind had the honor of lighting a giant Chanukah menorah that Backman set up in front of the AEPi house.
The school was a good match for his basketball talents as well. As he was preparing to go off to school, Ben suggested he contact the athletic office at Maryland and see if he could try out for the team. While visiting the school for orientation, Susskind met with the Terrapins' coach, Mark Turgeon. "He said he couldn't promise me anything, but I did a couple of workouts and skill drills with the team. And every day while I was there, they asked me to come back."
So he did, and he landed a spot on the NCAA team. As a "walk-on player," Susskind comes into a game when his team is winning and only for the last few minutes of it. He also gets to know the opposing team and studies their moves to better prepare his teammates for upcoming games.
Susskind—No. 24 on the Terrapin team—works to balance out his Jewish and sporting careers. For instance, he sat out a practice that was scheduled for Yom Kippur, and is a member of the Jewish fraternity AEPi.
While there aren't all that many Jewish NCAA basketball players, Susskind says "I've played against a few teams that had a Jewish player on the other side. I think it's cool because we share the same background and have some sort of bond over it."
He notes that Judaism is very special to him: "I constantly talk to my teammates about religion and since a lot of them didn't grow up with a lot of Jews around them, they are interested. They ask me to explain different holidays to them and what kosher is, and what do you do on Shabbat."
Susskind answers each of their questions because, as he says, Judaism "is a part of who I am. Not only do I play basketball, I want to be affiliated with the Jewish people. That's how I was raised."
"Jacob is very proud of who he is and where he comes from," says Rabbi Backman. "It's been nice hearing from others how he's become somewhat of an ambassador for Judaism for the basketball team. It's an opportunity for people to see someone who is proud of who he is and proud to be a Jew."
Further, says Backman, when students—particularly, freshman—realize that he's Jewish, "there's an excitement that there's 'one of us' on the team. Jacob tries to be as involved with the Jewish community as possible. He has a schedule with the basketball team that doesn't allow him to join everything, but he's around it, and he's a part of it."
Never mind that he can slam-dunk like the best of the best. Judaism, says Susskind, is "probably the most important thing about me."