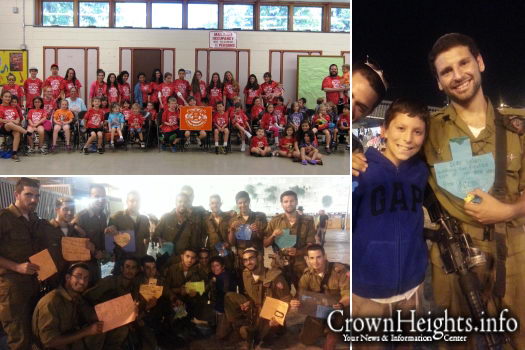 Campers at Gan Israel of Orange County, NY were excited to make cards for Israeli Soldiers – especially because they would be delivered personally by the camp's directors.
"The theme of this year's camp was 'One Happy Camper – Where our actions are the real apps in life' '' – says Chana Burston, who together with her husband, Rabbi Pesach, directs the camp. "Each week featured another Jewish-themed App, with the final week being, "iGive Mitzvot" – good deeds." The Burstons told the campers that the good deed they would be doing would be making cards for soldiers in Israel. "We explained that we were leaving for Israel the following week and that we would hand their cards personally to the soldiers who work hard and risk their lives to protect Israel. This felt very real to the children and they enthusiastically make beautiful cards."
Campers cut out various shapes and wrote meaningful messages, full of gratitude and encouragement. They decorated the cards with Hebrew letter stickers, glitter and attached a lollypop to each one.
Rabbi Pesach and Chana Burston, together with their children, fulfilled their promise this week and presented the cards to the soldiers in Israel.
"One night, together with our ten-year-old son, Duvy, we headed to the Western Wall with the majority of the cards," recounts Chana Burston. "We were excited to find a huge group of soldiers there that night. When we explained that we were from Chabad's Camp Gan Israel of Orange County, the commander of the unit, Commander Hasofer, stepped forward and told us that he, too, was from a Chabad background. We then began to hand out the cards, and we wondered if we had brought enough, as we didn't expect to find such a large group that evening. We had exactly the right amount!"
The soldiers gathered together and read the cards. They told us how much it meant to them that that our campers are thinking of them and sending their good wishes.
The Burstons gave out the remainder of the cards to other soldiers in various parts of Israel.
Rivkah Burston, age 5, couldn't wait to give the heart shaped card she had made in camp to a soldier. The soldier was so excited that she thanked Rivkah with a big hug and gave her an authentic badge from her unit.
Camp Gan Israel just finished its eighth summer, and presently runs out of Pine Tree Elementary School in Monroe, NY. The program is geared for Jewish boys and girls ages 3 through 13 and boasts a day's full of innovative ideas and creative programming. Camp Gan Israel is part of the largest network of Jewish camps in the world. Campers enjoy a fabulous array of activities such as trips to water parks, mini-golf, nature museums, hikes, and more. Campers benefit from professional instruction in sports, yoga, mad science, dance, art and cooking.
"Gan Israel has the simple goal of providing a warm and exciting camp experience in a spirited environment, in which each camper can develop his or her own unique talents," says Rabbi Pesach Burston. "The camp experience is imbued with Jewish ambiance and culture, instilling pride in our heritage and traditions."
Chabad also runs a Winter Camp Gan Israel during the Winter Break.