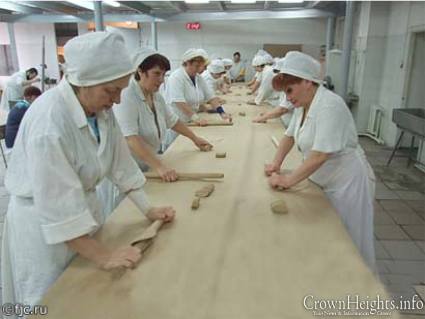 FJC.ru
DNEPROPETROVSK, Ukraine –- Operations at the Matzah Bakery in Dnepropetrovsk is in full swing at the moment, with particular attention being dedicated to the production of special kosher matzah known as Matzah Shmura. This, of course, is happening in preparation for Passover.

Distinctive from matzah in a square form, which is produced with the assistance of machines, the matzah produced by the Dnepropetrovsk bakery is completely prepared by hand. It is made this way in holding with a tradition spanning over 3,000 years of Jewish history. Because there are very specific rules as to how it is made, the process is carried out under the supervision of highly qualified specialists and involves use of a traditional stove made of stone.
On average, the bakery produces 300 kg. of Matzah Shmura per day, with about 50 tons being distributed all over the world in preparation for Passover. Of these, only three to four tons are ordered by Jewish communities across Ukraine, with the remaining 46 or so being sent internationally to many different countries all over Europe, North and South America, Africa, Asia and Australia.
"Our matzah is recognized as some of the best in the world and we are pleased that with every passing year, we are approached by more and more Jewish communities across the world, which are interesting in ordering our product," commented Stella Umanskaya, the Director of the matzah bakery.