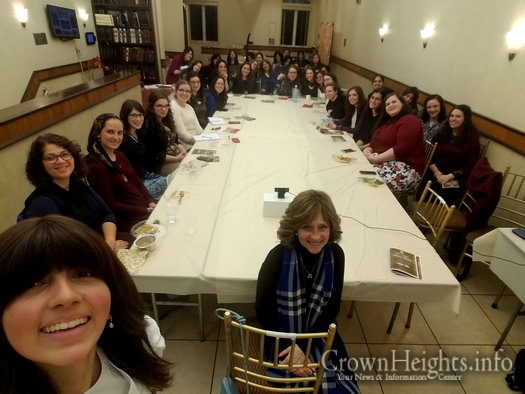 Living Chassidus, an organization for women in Crown Heights, is hosting a Challah Bake Thursday night, December 28. Every woman who joins will walk out inspired and uplifted, with two loaves of Challah, ready for Shabbos.
Author and speaker Mrs. Rochie Pinson will lead the women in a night of inspiration and renewal. "Women's mitzvos are so special, let's take the time to appreciate this incredible zchus," the organizers said.
Mrs. Pinson will speak about the beauty of Challah, and will lead everyone as they prepare their own personal Challahs. She will do multiple braiding demonstrations after the women knead their own dough. There will be a video presentation, as well as an interactive Challah game.
"Get ready to be pampered as we join together, noshim tzidkanios, to daven for all of our wants and needs. Whether it be your zivug, Shalom bayis, good health for you and your loved ones, or parnosa. But most of all, let's use our power as women to storm the heavens info a firm request for Moshiach!" said the event's organizers.
The event will also feature the launch of an exciting new Living Chassidus program: Shabbos Gems.
The event will take place at The Shul (481 Albany Ave), with doors opening at 7:30pm and the program kicking off promptly at 8:00pm. The cost is $25 for general admission, or $18 for Living Chassidus monthly Chai Club donors. RSVP at http://www.livingchassidus.org/challahbake.
The Challah Bake celebrates 5 years of Living Chassidus, as well as Michal Weiss' birthday. For those of you that know her, she asks each of you to join in this beautiful Challah celebration.
Five years ago at her birthday farbrengen, Michal Weiss found herself challenged by friends to demonstrate that chassidus could be applied to everyday life in a practical way. Weiss rose to the challenge, and thus the Crown Heights women's group Living Chassidus was born.
In the intervening years, Living Chassidus has only strengthened its core mission of being a "home away from home" community dedicated to addressing the material and spiritual needs of women living in Crown Heights through practical applications of Chassidus. Current programs include shiurim, farbrengens, Elul/Tishrei and Chasidishe New Year learning programs, and communal activities such as potluck break-fasts. As word of the group has spread, an ever-expanding number of women have found their lives enriched. In fact, the group has outgrown its original venue and expanded to larger spaces as more women join.
For more information about Living Chassidus, visit LivingChassidus.org, or email Info@LivingChassidus.org.