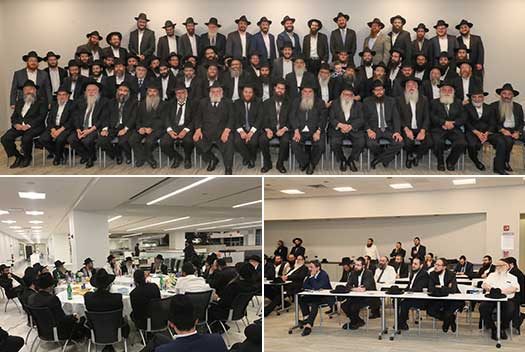 Sunday and Monday, 25-26 Tammuz, Lubavitch-Chabad of Illinois and Rabbi Shimmy and Rochel Susskind of Chabad of Vernon Hills hosted the regional Kinus Hashluchim for the Midwest region of the United States, with 90 Shluchim from Illinois, Indiana, Kentucky, Michigan, Ohio, and Wisconsin gathering at the spacious Beco Innovation Park in Libertyville, Illinois, for a day and a half of study, farbrengens, and creative and informative workshops.
The morning began with a shiur in Toras Rabbeinu, led by Rabbi Yosef Gurevitch, mashpia in Yeshivas Ohr Eliyahu Lubavitch Mesivta of Chicago, followed by a text-based halacha shiur about geirus with Rabbi Boruch Hertz, rov of anash in Chicago, mara d'asra of Congregation Bnei Ruven, and dean of Lubavitch Girls High School.
Rabbi Yosef Moscowitz, Executive Director of Lubavitch-Chabad of Illinois and Director of Chabad of Bucktown opened the lunch session recalling the devotion of his father, Rabbi Daniel Moscowitz, ז'ל to the regional and international Kinusim and shared a dvar Torah. After an ice breaker designed to help shluchim get to know each other better, he introduced a guest speaker: Rabbi Pinchas Vishedsky of Chabad of Ukraine, who shared an emotionally charged  and inspiring message of joy and bitachon in the face of challenges.
The afternoon sessions included:
Break-out sessions to discuss various unique challenges that shluchim face in their personal lives and in their shlichus. The shluchim were divided into groups for about an hour and then reconvened to share with the others their groups' conclusions. The session was chaired by Rabbi Baruch Epstein of Lubavitch-Chabad of Illinois central office and Bais Menachem in Chicago and Rabbi Shmuly Litvin of Chabad of Kentucky.
Rabbis Yisroel Shmotkin of Milwaukee, WI, Yossi Schanowitz of Highland Park, IL, Dovid Flinkenstein of Wilmette, IL, and Zushe Greenberg of Solon, OH shared personal  memories of being in 770 during the 5720s, 5730s, and 5740s. The session was chaired by Rabbi Moshe Wolf, Executive Director of Cheder Lubavitch in Chicago.
Next up; a frank discussion on health and fitness for the busy shliach, chaired by Rabbi Eliezer Zalmanov of Munster, IN. Rabbi Meir-Chai Benhiyoun, of Chabad of the Gold Coast in Chicago, shared his personal story of a recent health scare, and how he learned that one's emotional equilibrium is as crucial to good health as being fit and eating right. A local fitness coach taught methods for staying fit while leading a hectic life, as well as nutrition tips and suggestions for healthy living.
After a video of the Rebbe and a group photo, the shluchim convened for dinner, chaired by Rabbi Meir Shimon Moscowitz, head shliach of the state of Illinois, who officially welcomed the shluchim. After a dvar Torah by Rabbi Itche Schanowitz of Deerfield, IL, Rabbi Moscowitz introduced Rabbi Moshe Kotlarsky, vice-chairman of Merkos L'inyonei Chinuch and the driving force behind the regional and international Kinusim.
Rabbi Kotlarsky's remarks included a reminder for shluchim to continue writing to the Rebbe on a regular basis, informing the Rebbe of everything that happens in their lives, both the good and the better.
Rabbi Yossi Groner of Charlotte, NC, was the guest speaker. Rabbi Groner shared several experiences in his personal shlichus, adding lessons that all shluchim can benefit from.
After maariv, the formality of the evening came to a close and the tables were brought together farbrengen style, with Rabbi Groner inspiring the crowd for several hours as the shluchim sat together until the early morning.
Monday morning, after Chassidus and shacharis at Chabad of Vernon Hills, Rabbi Yisroel Lein of Milwaukee, WI moderated a session led by Rabbi Sholom Ber Halberstam of Yeshivas Ohr Eliyahu – Lubavitch Mesivta of Chicago who spoke of practical tactics parents can try to empower their children to greater success in their chinuch. The final session highlighted the need to engage communities in servicing seniors, led by Rabbi Lazer Hershkovich of Des Plaines, IL, as well as hospice guidance for shluchim, with Rabbi David Simkin RN, of Seasons Hospice.
The kinus concluded with brunch at the Chabad House, after which the shluchim took leave of each other with hopes and prayers that the next Kinus take place in Yerushalayim Ir Hakodesh with Moshiach.