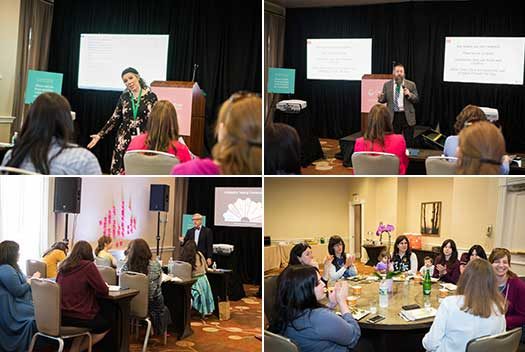 Chabad on Campus Shluchim and Shluchos around the world impact over one hundred thousand Jewish students every year. Whether through a Friday night meal for a student who has never experienced a Shabbos, learning opportunities that can engage minds, or simply the feeling of pride and connection deep in the soul of a Jewish student who walks past their campus Menorah on Chanukah.
None of this would be possible without partners who support their work. Thus, maintaining relationships with donors, alumni and parents who want to contribute to Jewish life on campus is critical for ensuring that the essential work can continue. In many cases, it's the Shlucha that has made a lasting connection and can help supporters keep their own ongoing link to Jewish life on campus through their support.
Recognizing the vital role Shluchos can play in fundraising, Chabad on Campus International (COCI) held the first ever fundraising training specifically for Shluchos last week in Long Island, New York.
The training was designed by Rabbi Elazar Green, director of Chabad on Campus International's Strategic Initiative, who invited world-class presenters to train the Shluchos on how to invite, engage, and connect with donors, alumni, and parents.
On Sunday, Alina Spalding, an inspirational speaker, Jewish educator, and fundraiser, was the main presenter. Her sessions focused on how to develop a compelling story and message, and how to find potential donors.
The presenter on Monday was Marc Pitman, an international fundraising coach and author of the book "Ask Without Fear!". His training focusing on developing prospects and communicating with donors and included lots of time for group discussion.
Tuesday's training was run by Mary Cahalane, a major nonprofit fundraising consultant. She taught about developing a culture of philanthropy, and also more technical issues like whether to run digital or paper mail and how to thank donors for their support.
Chana Avtzon, Chabad on Campus International's Strategic Initiative Coordinator, talked about coaching grants that Chabad on Campus International is making available to the Shluchos. "We are trying to make it as easy as possible for Shluchos to succeed so COCI offers coaching grants which will help the Shluchos work one-on-one with a professional coach to achieve their personal goals."
Mrs. Chaya Singer travelled all the way from the United Kingdom, where she is Shlucha at University of Bristol, to attend the training. "The conference was really uplifting and educational in many ways," Chava said. "The presenters each had a unique facet, perspective and energy that made the whole three days engaging, interesting, interactive, and complete."
"The conference gave us so many practical and insightful tools, as well as truly transforming our mindset and attitudes towards fundraising" commented Mrs. Raizel Deitsch, Shlucha at George Mason University and a member of the organizing committee. "It showed us that raising funds isn't a separate job; instead, we have the opportunity and mission to invite donors into our Shlichus."
"Seeing such a high level conference put together for Shluchos who are ready take on another facet of their Shlichus full force has been so inspiring," said mrs. Miri Gourarie, Shlucha at Penn State University who also helped organize the event. "Including others in our mission to light up the world is a special opportunity that we are lucky to be part of now. Shluchos are great at connecting with people, and as one of the presenters put it, 'Fundraising is all about connecting people to your mission: to turn over the lead through empowering young Jewish leaders'."
"I'm delighted that our first Shluchos fundraising conference was such a huge success," said Rabbi Yossy Gordon, Executive Vice President of Chabad on Campus International. "Chabad on Campus is dedicated to unlocking all the talents of Shluchim and Shluchos. Not everyone finds fundraising easy but it's a tool that enables campus Chabad to really fulfil its potential, reach more Jewish students and change more Jewish lives."