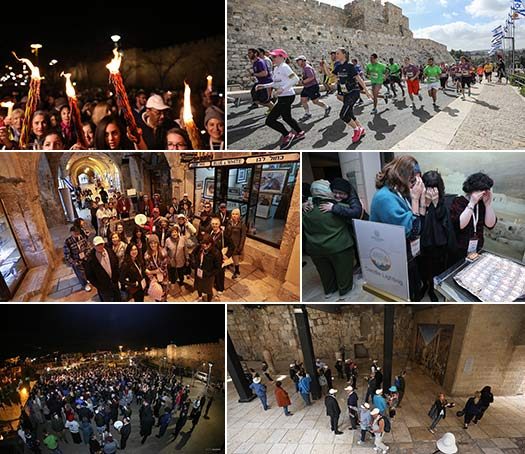 120 shluchim and shluchos along with 770 Chabad House community members arrived in Israel last week to participate in JLI's Land and Spirit Israel Experience. The group, traveling from across the US, Canada, Australia, as well as from Central and South America, is the largest group to visit Israel this year.
Friday, day #5 of JLI Land and Spirit, We had the amazing opportunity to watch 33,000 marathon runners race through the ancient streets of Jerusalem. We took advantage of the rest of the short day to visit the City of David, tour the Old City or pray at the Tomb of King David.
On Friday night, we joined thousands of fellow Jews from around the globe in welcoming the Shabbat at the Western Wall, then enjoyed a spectacular Shabbat meal with young Americans who are volunteering in the IDF.
The rest of Shabbos was spent in prayer, study, celebration and camaraderie. Havdalah was another trip highlight as we joined together for a moving musical ceremony outside the walls of the Old City.
Photos by Bentzi Sasson