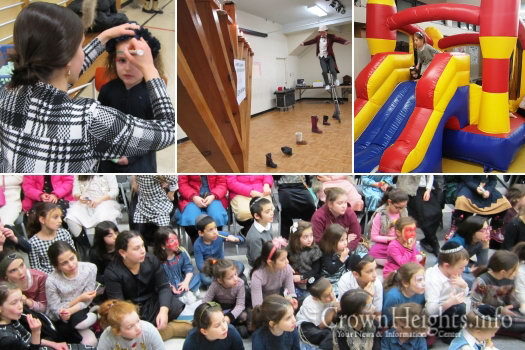 500 children and parents participated in the 45th annual Chanukah Carnival organized by Beis Rivkah of Montreal.
The children had a great time at the numerous booths, giant inflatable bouncing games, and original Chanukah puppet show.
All children received free cotton-candy, dreidels and Chanukah Gelt.
The Chanukah candles were lit on a giant Menorah. This was followed by a video of a Chanukah rally with the Rebbe.
Circo-comedia entertained everyone with amazing acrobatic and circus stunts.
Hundreds of prizes were distributed during the carnival, in addition to many valuable prizes awarded at the grand raffle.
Rabbi Yosef Minkowitz, principal of Beis Rivkah, thanked the High School G.O. heads, Mushky Herzog and Gitel Raskin, the High School students, and Shlomi Lison, for their help in making the carnival a success.